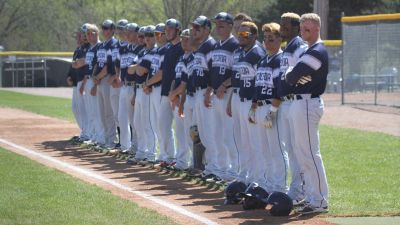 NAIA baseball national championships info
SEWARD, Neb. – Whichever team comes out of the Hutchinson Bracket will have earned a trip to the Avista NAIA World Series. Three squads ranked in the top 15 of the most recent NAIA coaches' poll, including host Tabor College (Kan.), will make up the five-team field at the National Championship Opening Round site assigned to the Concordia University baseball team.
It will soon be time for third-year head coach Ryan Dupic's squad to get over the thrill of qualifying for the national tournament for the first time in school history. The Bulldogs gathered as a team to watch the selection show on Thursday. Now they focus on getting back to business.
In the first game of the Hutchinson Bracket, the fifth-seeded Bulldogs will take on fourth-seeded University of Jamestown (N.D.), a current member of the North Star Athletic Association and future member of the GPAC. Concordia split four games this regular season with the Jimmies. Three of those contests were decided by three runs or less. Jamestown's at-large hopes got a big boost when it knocked off No. 2 Bellevue University twice in conference tournament action.
Concordia locked up its automatic bid to nationals when it clinched the GPAC regular-season title. The Bulldogs will enter the opening round having won 10 of their last 12 games. As a reward for its efforts this season, Concordia placed seven players on the All-GPAC first or second team and Dupic garnered the coach of the year award. Dupic has plenty of pitching options to choose from, including three starters with ERAs below 3.00.
For links to live coverage from the Hutchinson Bracket, check out Tabor's tournament page HERE. Live updates will also be provided by the official Twitter account of Concordia University athletics, @cunebulldogs.
Breaking down the field
No. 1 Clarke University Crusaders
Head Coach: Dan Spain (5th season)
Record: 45-12
Conference: Heart of America Athletic Conference
Location: Dubuque, Iowa
All-Conference Selections: Dan Spain (Coach of Year); P Michael Lopez (Pitcher of the Year; First Team); C Jacob Blunt (First Team); 1B Evan Faccenda (First Team); OF Kevin Hunley (First Team); DH Stephan Zanoni (First Team).
What to Watch For: Clarke has taken off under Dan Spain, who has made waves on the recruiting trails. The Crusaders can play long ball. They possess three thumpers with 10 or more home runs in Kevin Hunley (16), Evan Faccenda (12) and Stephan Zanoni (10). They can pitch, too. Their top three starters have all been dependable arms: Michael Lopez (12-0, 2.70 ERA), Tanner Lupton (8-2, 3.36 ERA) and Anthony Ruden (9-3, 3.90 ERA).
No. 2 Missouri Baptist University Spartans
Head Coach: Eddie Uschold (18th season)
Record: 41-14
Conference: American Midwest Conference
Location: St. Louis, Mo.
All-Conference Selections: INF Aaron Collazo (First Team); OF Drew Kitson (First Team); SS Culver Plant (First Team); INF/RHP Chad Ramsey (First Team); RHP Nick Vichio (First Team); C/1B Brandon Schlichtig (Second Team); RHP Michael Syrett (Second Team).
What to Watch For: The national tournament will be a new experience for the Spartan players with the program's most recent opening round appearance occurring in 2013. The champions of the American Midwest Conference regular season have held opposing hitters to just a .238 batting average and own an NAIA 11th best ERA of 3.44. The Spartans also rank 22nd nationally in runs per game. Their leading hitter is Culver Plant (.356) while Drew Kitson and Chad Ramsey have clubbed 10 homers apiece. Michael Syrett has logged the most innings (78.1) and sports a 3.68 ERA.
No. 3 Tabor College Bluejays
Head Coach: Mark Standiford (9th season)
Record: 41-15
Conference: Kansas Collegiate Athletic Conference
Location: Hutchinson, Kan.
All-Conference Selections: SS Abdiel Alicea (First Team); OF Jacob Jones (First Team); Jordan Harris (First Team P/Second Team DH)
What to Watch For: An automatic national qualifier courtesy of a runner up KCAC tournament finish, the Bluejays possess one of the nation's top hitters in Jordan Harris (.463, 15 HR, 74 RBI), who is also a fine pitcher. Jacob Jones has been similarly productive, hitting .417 with 12 homers and a .678 slugging percentage. Tabor tops the nation in batting average (.382) and hits per game (12.7) and ranks second in the NAIA in runs per game (9.4). The Bluejays won all four meetings with Concordia in 2016.
No. 4 University of Jamestown Jimmies
Head Coach: ­Tom Hager (18th season)
Record: 40-19
Conference: North Star Athletic Association
Location: Jamestown, N.D.
All-Conference Selections: P Jerome Byndloss (First Team); P Eric Evans (First Team); C Quinn Irey (First Team); INF Peter Pennylegion (Second Team); INF/OF Taichi Sasaki (Second Team); INF Landon Uetz (Second Team).
What to Watch For: Jamestown has had a rock solid program under Tom Hager, whose squad features three players who were first team all-conference selections in the North Star. The brightest star is third baseman Landon Uetz, a .356 hitter with 11 home runs and a .629 slugging percentage. The Jimmies own three victories over Bellevue, one of the nine No. 1 seeds in the opening round. For what it's worth, Jamestown sports a .970 fielding percentage (third best in the NAIA). Ace pitcher Jerome Byndloss will make life tough on opposing hitters.
No. 5 Concordia University Bulldogs
Head Coach: Ryan Dupic (3rd season)
Record: 33-20
Conference: Great Plains Athletic Conference
Location: Seward, Neb.
All-Conference Selections: Ryan Dupic (Coach of Year); 3B Casey Berg (First Team); 1B/DH Jason Galeano (First Team); LHP Jason Munsch (First Team); C Ryan Fesmire (Second Team); OF/DH Christian Montero (Second Team); RHP Desmond Pineda (Second Team); LHP Josh Prater (Second Team).
What to Watch For: The underdogs of the bracket are making their first ever appearance in the national tournament after winning a conference title for the first time since 1986. It's been a rapid rise for a program that did not even make its own league tournament two years ago. The Bulldogs have the pitching depth to compete in a tournament setting with three starters with ERAs below 3.00: Wade Council (2.22), Josh Prater (2.57) and Jason Munsch (2.77). Concordia will have the luxury of playing free of pressure as the No. 5 seed.