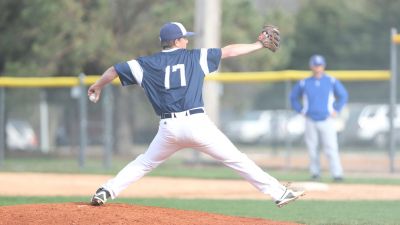 Prater strikes out 10 in blanking of York
SEWARD, Neb. – Josh Prater fired seven shutout innings and the Concordia University baseball team ended a nine-game series losing streak with in-state neighbor York College in a single nine-inning contest in Seward on Tuesday evening. Three different Bulldog pitchers combined on a 3-0 shutout of the visiting Panthers, who received votes in this week's national coaches' poll.
The victory ended a four-game skid and bumped first-year head coach Ryan Dupic's squad to 22-14 overall and 7-2 at home.
"I knew it had been a while since we had a chance to beat those guys. They have a really good ball club," Dupic said. "They swing it very well, pitch very well and are very well-coached. We played really well today and got a good pitching performance. It was a nice win for our guys."
Prater needed little offensive support in the best outing of his young career. The sophomore from Colorado Springs, Colo., racked up a career high 10 strikeouts to go up against four hits and no walks allowed. The southpaw worked out of a two-on, no-out jam in the second and also struck out the side in the third as part of his gem.
"I was just spotting up well," Prater said. "My fastball felt good and I was able to go to my off speed when I needed it."
Concordia pushed across the game's first run courtesy of designated hitter Drew Ten Bensel's sacrifice fly in the bottom of the second off York starter Rodolfo Gutierrez. The Bulldogs added some breathing room in the seventh when Alex Cargin laced a two-run single to center, pushing his team high season RBI total to 23.
Prater gave way in the eight to senior righty Edwin Izumigawa, who gave up two hits and a walk over 1.2 innings. Junior right-hander Mark Harris then struck out Jordan Pella with a runners on first and second to end the game and notch his first save as a Bulldog.
Third baseman Kaleb Geiger went 2-for-4 with a run for Concordia. The Panther pitching staff held red-hot Alex Alstott to an 0-for-4 performance.
York's Rudy Perez and Garret Anctil both went 2-for-4. Gutierrez (4-1) was tagged with his first loss of the season.
After dropping all four of its GPAC games over the weekend, Concordia's response on Tuesday was significant.
"It was huge. We talked about that afterwards," Dupic said. "Sometimes guys aren't always ready to go in nonconference games, but they were ready to go today. This was a good ball club. It's nice to get a win and get a little bit of momentum heading into the weekend."
The Bulldogs will now play GPAC competition for the remainder of the regular season. Concordia is slated to complete its 2015 home schedule this weekend when it hosts Northwestern (17-22, 7-5 GPAC) on Saturday and Morningside (29-12, 7-5 GPAC) on Sunday. Both doubleheaders are set to begin at 1 p.m. from Plum Creek Park. The Bulldogs will honor their group of seniors on Sunday.