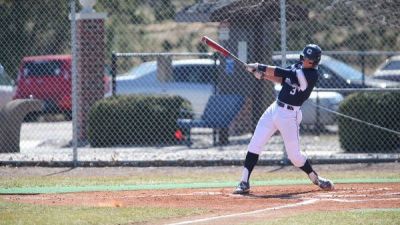 Prater bounces back; Bulldogs split Sunday pair
OTTAWA, Kan. – Saturday's game two offensive outburst carried over to Sunday's morning contest as the Concordia University baseball time posted 10 runs on 12 hits to earn a 10-1 victory over host Ottawa University. William Penn pitcher Josh Ruiz then silenced the Bulldogs in the Sunday matinee to lead the Statesmen to a 6-1 victory over Concordia in hand-numbingly cold conditions.
Head coach Jeremy Geidel's squad went 2-2 on the weekend and remain at .500 overall (4-4).
"I was very pleased with the first game," Geidel said. "It was very cold – one of the colder games that we've played in. I was happy with the way our guys put that in the back of their minds."
Center fielder Taylor Dudley and second baseman Mark Wilcox bludgeoned Ottawa with three hits apiece as part of another stellar offensive game against Ottawa. Dudley, now 5-for-13 at the plate this season, started both games in center. His two-run single helped spark the six-run sixth inning that put the game out of reach.
On the mound, freshman lefthander Josh Prater rebounded and gave Geidel a seven-inning complete game win over the Braves. The Colorado Springs, Colo., native allowed five hits and a walk and struck out two as part of his first collegiate victory.
"He was in the zone," Geidel said. "He understood his role and with the wind blowing in he understood that the ball wasn't going anywhere. He got ahead of hitters and kept things simple."
Catcher/designated hitter Sean McCartney produced with two hits in both games. He went 4-for-7 with two RBIs and two runs on the day. He cracked an RBI single in game one and drove in the team's lone run in game two.
"Everybody swung the bats well that first game," Geidel said. "We were aggressive and put the ball in play. We broke the first game open with that six spot in the sixth. It was to good see our guys build up to that."
Down just 2-1 in the bottom of the sixth versus William Penn, Concordia missed out on a prime opportunity to tie or even take the lead as it had runners on second and third with one out. Ruiz then got McCartney to ground out to third and Dudley to chop to second to keep the Statesmen in front.
"We have to figure out how to score more runs against other team's top pitchers," Geidel said. "We have to execute the bunt or the hit and run and learn how to convert those opportunities. With good pitchers the margin for error is small."
William Penn collected 13 hits, including three from catcher Patrick Roxbury who delivered one of three RBI hits in the sixth to extend the lead. The Statesmen put up four runs in the sixth. Three were unearned due to an error that occurred with one out.
Concordia righty Jordan Stirtz, who notched a complete game win in his first start a week ago, covered four innings, surrendering seven hits, two walks and two runs (one earned).
Third baseman Andrew Yerrell went 1-for-3 in both games, making him 5-for-14 on the weekend. He's been the Bulldogs' most consistent hitter through eight contests. He has at least one hit in six games.
The Bulldogs have Monday off before returning to action on Tuesday when they play a road doubleheader at Mid-America Nazarene University in Olathe, Kan. (12 p.m.). The Pioneers are a member of the NAIA's Heart of America Athletic Conference.