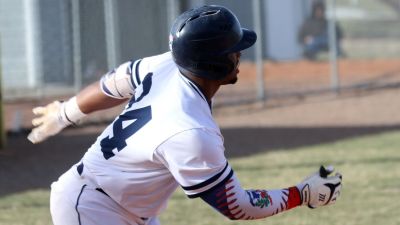 YORK, Neb. – Host York College ended Tuesday night's nonconference tilt with 11 unanswered runs while erasing an early four-run deficit. The Panthers dealt the Concordia University baseball team an 11-4 defeat in a nine-inning contest played at Levitt Stadium in York, Neb.
The loss snapped a five-game win streak for third-year head coach Ryan Dupic's squad. Now ranked No. 1 in the GPAC poll, the Bulldogs stand at 16-13 overall.
"We left a lot of guys on base and just didn't throw enough strikes. We didn't play well enough in any of the phases of the game to win," said assistant coach Bryce Berg. "We built that lead early and were feeling pretty good. It was a windy day and it was tough to drive the baseball, but no excuse for not driving in some more runs. We didn't get big hits when we needed them."
Junior right-handed pitcher Neil Ryan cruised through the first four innings, facing just two hitters over the minimum while mowing down Panther batsmen. But the game started to unravel in the fifth when Ryan loaded the bases with three-consecutive walks. After an RBI double by Lamar Smith and a two-run single by Billy Johnson, York had tied the game.
The Panthers (22-17), 2016 champions of the Kansas Collegiate Athletic Conference, pounced by adding seven runs off the Concordia bullpen. All 11 York runs came over its final four innings at bat. Josh Roman helped punctuate the win for York by belting a two-run homer in the seventh.
"They're a really good ball club," Berg said. "They can score runs. When you give a team like that opportunities, they're going to get to you."
Once again, the Bulldogs were unable to take advantage of a trail of baserunners. Though it managed only five hits, Concordia drew eight free passes, including four by designated hitter Wade Council. The Bulldogs did almost all of their damage in the third inning when Tyler Nelson forced in a run with a bases-loaded walk, Thomas Sautel drove in another with a sacrifice fly and one more came in with the aid of a Panther throwing error. It was a 4-0 Concordia lead after Christian Montero swatted a run-scoring single in the fourth.
Ryan ended up allowing four earned runs in 4.2 innings. Reliever Tanner Wauhob allowed four runs (two earned) in 2.1 innings and took the loss. On the other side, DB Vidal went 3-for-3. In addition, Johnson knocked in four runs for the victors.
The Bulldogs now brace a four-game weekend series with rival Doane (15-17, 6-5 GPAC). Concordia will host the Tigers on Saturday before venturing to Crete on Sunday (both doubleheaders set for 1 p.m. CT). The two sides entered the day as the first- and second-place teams in the league standings. However, the Tigers were swept by Hastings in a doubleheader on Tuesday evening.