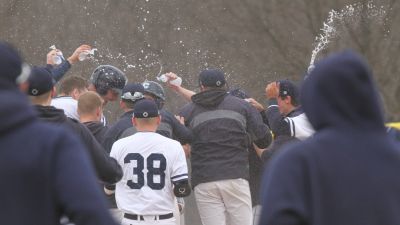 Fresh off leading the program to its first conference title in 31 years, head coach Ryan Dupic warned everyone by saying that progress isn't always linear. In other words, the 2018 team would have to earn the type of championship success that the 2017 squad enjoyed. A more youthful outfit this spring, the Concordia baseball team rode the rollercoaster through a 25-22 campaign.
It's time to take a deep breath and process a 47-game slate played intermittently as weather allowed throughout a chilly and sometimes snowy spring. When the 2018 Bulldogs made their debut on Feb. 25, they were without five of their all-conference position players from the GPAC championship team.
"We want to have some patience," Dupic said. "I think sometimes time is a terrific healer with this stuff because everybody gets a chance to process things. The guys really care about this and they're trying to figure out ways to improve themselves. I'm kind of letting them go here for a little while and just making sure they have what they need. We'll start fresh when they come back in the fall and make sure they have a good foundation."
Start with the positives. GPAC Pitcher of the Year Nick Little and senior Cade Moring formed a solid one-two punch at the top of the rotation. Christian Meza sprayed hits all over the yard while batting .405 for the year. Wade Council, asked to carry a significant load as both a right fielder and starting pitcher, took exceptionally well to the leadoff spot in the lineup. For the most part, a bullpen led by Jake Fosgett helped Concordia stay in games.
This team had talent. That statement seemed undeniable on March 23 when the Bulldogs sat at 14-7 overall after sweeping a home doubleheader from a solid Mount Marty team. Concordia even took a game from eventual GPAC champion Northwestern. The Bulldogs just never really found a groove and made far too many defensive mistakes to make a serious push at another conference championship.
"At that point I think is when we were playing our best baseball," said Dupic while referencing a nonconference series win at College of the Ozarks and the sweep of Mount Marty. "What we saw after that is we had a stretch where we didn't play very well. We just didn't respond to that the way that we needed to. We were a little bit younger at certain positions and we had some older guys going through some struggles of their own. We had such high expectations that I think we tried to do a little too much at times."
The most lasting memories during this season of learning occurred on April 22 when Concordia dealt Doane's GPAC title hopes a monumental blow. In game one of that day's doubleheader in Seward, the Tigers were seemingly cruising along behind ace pitcher Manny Armendariz, who had a 5-0 lead and a no-hitter working with two outs in the bottom of the sixth. Once Armendariz left with an injury, the Bulldogs pounced and eventually won on Thomas Sautel's walk-off RBI single. Concordia also won in walk-off fashion in game two. Whatever frustrations had been felt up to that point, they were gone in those moments when the players celebrated near the first base bag.
Of course everyone involved with the 2018 squad wanted more of such highs and fewer of the lows that were experienced. But for Dupic, there was joy felt through seeing the continued development of players like Little, Meza, Moring and Sautel. Each put together the best collegiate season of their careers. A native of Lakeside, Calif., Meza is one of those good baseball stories. His 5-foot-8 stature may not intimidate you, but he demands your respect with the way he competes.
"It's been so neat to see," Dupic said of Meza's rise to stardom. "He's really grown as a person, too. He has a very caring and passionate heart. He is a tremendous competitor – one of the better in-game competitors I've ever had in my time as a coach. He played great competition in high school so he was very prepared from that perspective. What a great year he had and I'm really looking forward to seeing him in his senior year."
The first player in program history to earn the GPAC Pitcher of the Year award, Little dominated to the tune of a 2.36 ERA and 90 strikeouts over a school record 91.1 innings in 2018. He paired with Moring (4.45 ERA in 64.2 innings) on a high volume strikeout tandem that helped the staff piled up a program record 382 K's. Moring set a new standard with 109 all by himself. Used sparingly over his first three seasons, Moring made a big time leap as a senior. As a junior, Sautel made similar gains and ranked second on the team with a .371 batting average.
No doubt there were some good pieces on a team that also brought back Jason Munsch, the team's top starter in 2017, as well as other key figures like Kaleb Geiger, Johnny May and Logan Ryan. Freshmen Keaton Candor and Dylan Jacob also saw extensive action.
It just seemed as if the 2018 Bulldogs struggled to fuse each of the phases of the game together at once with any type of consistency. Dupic, assistant coach Bryce Berg and the rest of the staff are determined to find remedies for their defensive woes. Always to the point, Dupic provided a candid take on some of the things that went wrong and need to be rectified.
"I think one of the things we saw was an inability to respond when things didn't go so well," Dupic said. "Even late in the year we would have a game where we were just unbelievably bad and then we'd have another game where we were fine. I think we showed a lack of maturity or a lack of ability to adjust as time goes. They're going to have to start to perform or we're going to find some other guys to do it."
Without naming names, Dupic discussed the need for some guys on the team to work harder this offseason than they have in the past. He expects good, healthy competition when the fall rolls around and new recruits are welcomed into the program. One of those recruits will be Ben Berg, another brother of Bryce.
"It's a big class. I do think there will be some changes," Dupic said. "You're not going to see nine new position players or a brand new pitching staff, but there most certainly are players coming in we expect to compete and play for us right away. I think will see that with position players and on the mound. Our goal every year is to create more competition within our program. We didn't have the depth we needed this year. Every player coming back is going to have to play well. We're going to need those guys as a foundation."