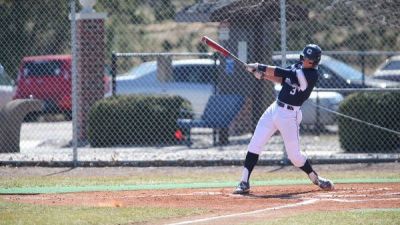 Oklahoma Wesleyan sweeps away Bulldogs
By Taylor Mueller, Sports Information Assistant
BARTLESVILLE, Okla. – The Concordia baseball squad came away with a tough, doubleheader weekend in Bartlesville, Okla., dropping two games to Oklahoma Wesleyan by scores of 11-1 and 5-2. The Bulldogs fell to 4-8 on the young season.
"We faced a very good team and did not play well," head coach Jeremy Geidel said. "Put those things together and it's a recipe for disaster. It did not go our way this weekend. We learned some valuable lessons, and now we need to look at the things that need improvements before our next games."
The Bulldogs fell behind and struggled to get anything going offensively in game one. After a scoreless top of the first for the Bulldogs, Oklahoma Wesleyan (15-3) answered with two runs in the bottom of the first inning, and then scored three more on three hits in the bottom of the second. It was tough going against the stout Oklahoma Wesleyan group that used strong pitching and solid fielding to tame the Bulldogs.
Concordia got their first run of the game in the top of the fourth inning when junior Daniel Wilkerson took a base on balls, stole second, advanced to third on a ground out and then scored on a throwing error by Wesleyan's third baseman a batter later. With the score cut to a 5-1 Wesleyan advantage, the Eagles tacked on two more runs in the bottom of the fourth and then four in the seventh to seal the deal and a 10-run rule win.
Sophomore Edwin Izumigawa and senior Matt Chambers combined for two solid innings of pitching, shutting out the Eagles in the fifth and sixth innings and earning a strikeout each. Freshman Josh Prater (1-1) took the loss, giving up five runs in four innings of work while striking out three.
The Bulldogs played better in their second match, but came up short once again, slipping 5-2 to the Eagles.
Despite falling behind 5-0, the Bulldogs rallied in the seventh inning, as junior Ethan Utecht and junior Zach Cambier each came through with RBI hits to bring the game to 5-2. It would be all the Bulldogs could muster, however, as they lost the game by the same score. Senior Jordan Stirtz took the loss.
The Bulldogs will next prepare for their spring break road trip to Tuscon, Ariz., to compete in the Tuscon Invitational March 8 – 15 where they will take on a variety of teams from the Midwest.