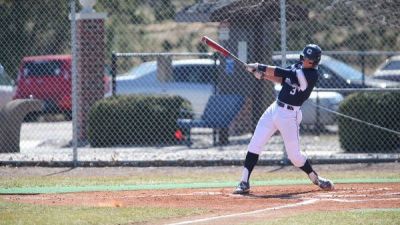 Offense explodes for 22 runs in game 2 win over 2014 national qualifier
TUCSON, Ariz. – A day after sweeping a doubleheader from Grace College (Ind.), the Concordia University baseball team resumed its nine-game Arizona slate by drubbing national tournament qualifier University of Jamestown (N.D.), 22-5, in the second game of Sunday evening's twin bill. The Jimmies (1-1), who are receiving votes in the national coaches' poll, won the opening contest, 8-4.
Second-year head coach Ryan Dupic's squad remains at .500 overall (5-5) with five games left on the current spring break trip.
Scalding at the plate since arriving in The Grand Canyon State, the Bulldogs have racked up a combined 51 runs over their first four games of the trip.
"There's a lot of space in the outfield here and the ball is really traveling," Dupic said. "And it's hot. Hitters like getting out in those conditions. Obviously our guys are taking it to another level offensively. We've had a tendency to string some huge innings together. We had another nine runs in the third inning of the second game. Our guys are having really good at bats. It's been fun sitting back and watching."
Concordia pounded out 21 hits, including five doubles and two triples, in the second game. Every starter reached base at least once as part of the onslaught. Senior Cole Stuerke collected a pair of doubles, junior Taylor Dudley added two hits and sophomore shortstop Casey Berg was commended by Dupic for a solid offensive day and steadying presence in the middle of the infield.
Dupic hopes the eye-popping offensive production in game 2 will provide a boost for his squad, which thumped a Jamestown team he expects to compete for another national tournament berth.
"We were a little down after the first game," Dupic said. "To respond like that is a great feeling. Our hitters were hungry and they kept tacking on runs. They didn't just settle. It's great to beat a team like that and we should gain a lot of confidence from it."
On the mound, Dupic went with lefties Taylor Bickel and Josh Prater as his Sunday starters. Prater battled into the fourth inning of game 2 before giving way to righty Edwin Izumigawa with the bases loaded and one out. Izumigawa struck out the next two hitters and then worked a scoreless fifth in a key performance out of the bullpen.
Jamestown, a member of the NAIA's North Star Athletic Association, finished 2014 with a record of 36-10. The Jimmies, who opened up their 2015 season on Sunday, outscored last season's opponents by 152 runs.
The Bulldogs take the day off on Monday before returning to the diamond on Tuesday for a single nine-inning game with Central Methodist University (7-5). First pitch is set for 9 a.m. MDT / 11 a.m. CST.