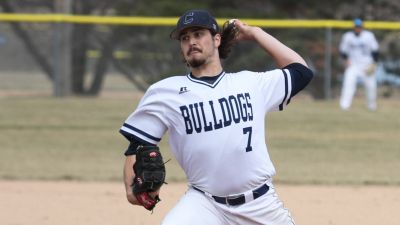 BLAIR, Neb. – Relief came in the fourth inning of game two on Thursday (April 5) when the Concordia University baseball team finally opened up the floodgates. An RBI single by Dylan Jacob sparked a four-run frame and lifted the Bulldogs to a 4-1 victory over Northwestern in second of two played at Veterans Memorial Field in Blair, Neb. The Red Raiders took game one, 3-0.
Fourth-year head coach Ryan Dupic's squad needed to salvage a game after also falling twice at home on Wednesday. Concordia stands at 16-13 overall and at 4-6 in conference play.
"In the first game we faced a really good pitcher and actually thought we had pretty good at bats," Dupic said. "Wade Council threw the ball really well. We just couldn't scratch any runs across. Obviously you have to point out Cade Moring. He just pitched out of jams over and over again. He did such a great job. I'm so proud of the way he has progressed."
Moring is missing a lot of bats these days. He struck out 10 more hitters on Thursday while tossing six frames. He limited the damage to one run on seven hits and one walk. Moring did some of his best work in the fourth inning. With a run already in, Northwestern (13-14, 6-4 GPAC) loaded the bases only to end the threat with a strikeout and a 6-4-3 double play.
Moring made sure to do his part after his teammates provided him a lead. In addition to Jacob's RBI single, May added another and Christian Clear emerged with the big blow. His pinch hit two-run base hit has been the type of clutch hit the Bulldogs have been missing in recent action.
In the opener on Thursday, Concordia never figured out Red Raider hurler Noah McBride, who went the distance in a seven-inning shutout. The Bulldogs managed only a single apiece from Evan Bohman and Brandon Cue. McBride didn't need anything more than Dustin Gaither's two-run double in the third.
Council lasted 5.2 innings, allowing three earned runs on five hits and three walks to go along with three strikeouts. Tanner Wauhob retired the final out in the sixth. In game two, Nathan Buckallew fired a 1-2-3 seventh and picked up his second save of the season.
The Bulldogs are still scheduled to play at Dordt (6-14, 3-7 GPAC) on Saturday, but the doubleheader is in serious jeopardy due to potential snowfall over the next day or two. A decision on the status of the twin bill is likely to be made on Friday. The next date on the schedule following the weekend is an April 10 doubleheader at Morningsde (11-14-1, 5-3 GPAC).