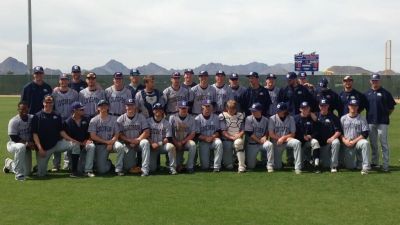 TUCSON, Ariz. – The Concordia University baseball team has found the sun of the Arizona desert to its liking. On Friday afternoon the Bulldogs completed their Tucson road trip with a doubleheader sweep of Dakota State University (S.D.) (3-4), winning by finals of 7-4 and 7-2. The pair of wins means Concordia will return home winners of six in a row.
The win streak has pushed second-year head coach Ryan Dupic's squad to 12-10 overall. Over the past two years, the Bulldogs own a record of 15-4 when playing in the state of Arizona. Off to a 1-3 start on this year's trip, Concordia regrouped by going on the offensive.
"Offensively we felt like we needed to make some adjustments in our approaches," Dupic said. "I thought we did that very well over the last six games. We stayed patient with our pitchers. I'm not sure there was anything that I can claim that we said or did as coaches (to initiate the win streak). We started to step up and pitch better and defend better.
"The players deserve the credit. We just started to execute better in all facets."
Over the final six games in Arizona, the Bulldogs averaged more than 10 runs per game. On Friday, catcher/designated hitter Christian Montero blasted a homer in both ends of the doubleheader, giving him three long balls on the trip. In the game 2 win, outfielder Johnny May doubled in a run and second baseman Alex Cargin recorded two hits. In game 1, Jacob Adams, Ryan Fesmire and Logan Ryan each reached base three times.
Cole Jackson provided a solid start on the mound in game 1 for the Bulldogs. A few mistakes cost Jackson from throwing up zeroes. He was relieved by lefty Josh Prater, who calmed the Trojan bats and allowed the Concordia bats to put the Bulldogs back in front. After Concordia broke a 4-4 deadlock with three runs in the top of the seventh, Josue Melchor came on to pick up the save.
In the second game, Taylor Bickel weathered the storm after allowing two early runs. Bickel earned the victory. He then gave way to Tanner Wauhob, who fired 2.1 scoreless innings.
After a slow start to the Tucson swing, Dupic's squad figured out how to mesh all phases of the game.
"We have to pitch and defend," Dupic said. "Too often we're letting games get away from us. When we pitch and defend, we feel like we'll break through offensively and give ourselves a chance to win. Offensively I think we have a better system in place in terms of preparation. We're using the whole field and having better at bats with runners in scoring position."
Montero's bat could prove a big key going forward. The transfer from Iowa Central Community College unloaded on a three-run homer in game 2, bulging a two-run lead to a five-run advantage in the sixth inning. Dupic also made note of May for his defensive prowess in the outfield and dynamic speed on the bases.
Following the twin bill sweep, the Bulldogs boarded their bus in preparation for a 24-hour ride back to Seward. Concordia will return to action on Tuesday (March 15) when it travels to Tabor College (13-6) for a 1 p.m. doubleheader.