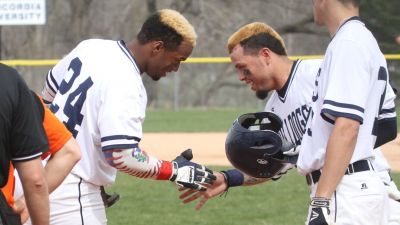 SEWARD, Neb. – The Concordia University baseball team feasted on Doane pitching, racking up 10 doubles and five home runs in a doubleheader pummeling of its GPAC rival from the south. Right fielder Christian Montero belted three home runs in fueling wins by scores of 6-0 and 14-4 (run rule) over the visiting Tigers on Saturday afternoon.
That 0-3 start to conference play is now a distant memory for third-year head coach Ryan Dupic's squad. The Bulldogs have won seven-straight conference games and have improved to 18-13 overall and to 7-3 in league play (first place).
"Offensively we were really good," said assistant coach Bryce Berg. "We came out of the gate strong in both games. I saw our guys were ready to play right away. They were aggressive on balls in the strike zone and didn't really expand the zone. And then we did a good job defensively preventing runs for the most part."
It seemed like only a matter of time before Montero started landing more pitches over fences. He entered the day with one home run and a team high 14 doubles on the year. On Saturday, the native of Santo Domingo, Dominican Republic, drilled a solo homer in the fifth inning of game 1 and then resurfaced in game 2 with a two-run shot in the first and another solo blast in the second. Montero's final homer of the day immediately followed a three-run bomb by No. 3 hitter Jason Galeano.
It was freshman Wade Council who set the tone early on. He spit on an offering from Carter Cummins that was a no-doubter of a three-run homer in the second inning of game 1. Council, a freshman from Colorado Springs, Colo., enjoyed one of the finest days of his young career, going 5-for-7 with five RBIs on the day.
"We're jelling as a team. Everything's clicking," Council said. "We're trying to stay on the same line emotionally. If we just do that, good things will happen."
Council and company made it a painful day for Doane pitchers, who surrendered 28 hits and seven walks. The Bulldogs got production up and down the lineup. Right at the top, Casey Berg had a 4-for-7 day with three doubles. Montero also went 4-for-7 and was one of five Bulldogs with multiple hits in game 2, which ended abruptly due to the 10-run rule.
Concordia also got solid pitching from lefty starters Jason Munsch and Josh Prater. Munsch has been the team's most reliable and consistent starter. Though he walked seven hitters on Saturday, he did not give up a run over six innings and struck out nine Tigers, tying a career high. Prater went 6.1 innings before handing the ball to Casey Hall for the final two outs. Nic Seaman also worked a scoreless inning (game 1) out of a bullpen that has been taxed very infrequently of late.
"He's been really good," Berg said of Munsch. "He's been our best pitcher so that's why we threw him out there in game 1. He wasn't quite as consistent today as we need him to be, but he was still putting up zeros. They struggled to get the barrel on him."
Others not previously mentioned who turned in a multiple hit game on Saturday were Jake Adams, Logan Ryan and Tyler Nelson. Both of Ryan's two hits in game 1 came on bunts.
Doane (15-18, 6-6 GPAC) has now dropped five games in a row (all in conference play). The Tigers did not score on Saturday until the fourth inning of game 2. They managed only seven hits the entire day.
The Bulldogs will complete their four-game series with Doane on Sunday when they make the short trek to Crete. The road doubleheader is set to get started at 1 p.m. CT.