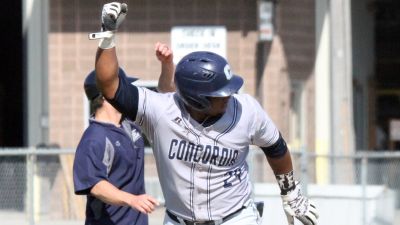 TUCSON, Ariz. – On day two of its spring break excursion in Tucson, Ariz., the Concordia University baseball team went toe-to-toe with 16th-ranked University of Jamestown (N.D.), a future member of the GPAC. In Sunday's doubleheader with the Jimmies, the Bulldogs rebounded from a 5-3 game 1 loss with a 4-1 come-from-behind win in a contest that went to extra innings.
Third-year head coach Ryan Dupic's squad is now 3-1 on the road trip and stands at 4-4 overall this season.
"It was a good win for us," Dupic said. "Jamestown is an excellent team and very well coached. I'm very proud that we were able to get that second game. To play 15 innings today and be right there with them was a good thing to see.
"I think our guys enjoyed playing and playing for each other. We gave up that one run (of game 2) late, so it was big for us to be able to respond. We talked a lot about just staying in the game and competing. They did a great job of that today."
Concordia trailed 1-0 in the seventh inning (last scheduled inning) of game 2. That's when Christian Montero led off the frame with a single, moved to second on a groundout and stole third base. Jason Galeano then knotted the game with a base hit to score Montero. In the eighth, Montero drove in the game-winning run with a double that scored Jake Taylor (two-out walk). With runners on second and third, Kaleb Geiger hit a screamer that eluded the Jamestown third baseman and brought in two insurance runs.
Throwing in relief, Nic Seaman recorded the final five outs of the game and earned the win. Seaman (two strikeouts, no hits) followed Cade Moring (1.1 innings, two strikeouts) out of the bullpen. Freshman Jason Munsch started game 2 and worked four scoreless innings. In the opening game of the twin bill, Neil Ryan tossed 3.2 innings before giving way to Taylor Bickel and Tanner Wauhob. Said Dupic, "We pitched and defended better today, especially in the second game."
Montero enjoyed a big day at the plate, going a combined 4-for-7 with a pair of doubles and a stolen base. In game 1, Casey Berg went 1-for-3 with a double and a walk. Also in the first game, Wade Council had a base hit and was hit by a pitch.
On paper, Grand View University (Saturday's opponent) and Jamestown (11-2) were pegged to be two of Concordia's most challenging opponents over the 10-game trip in Tucson. The Bulldogs took two from the Vikings yesterday, winning by scores of 12-6 and 5-1.
Action at the Tucson Invitational continues on Monday when Concordia will take on the University of Winnipeg (0-7) at 3 p.m. MT / 4 p.m. CT in one nine-inning affair. The Bulldogs will be on field 7 at the Kino Sports Complex.