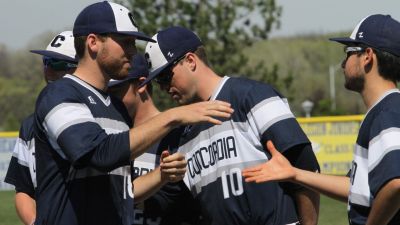 SEWARD, Neb. – Jake Adams and Kaleb Geiger connected on a home run apiece to give the Concordia University baseball team a 3-0 lead in game 1 of Saturday's afternoon doubleheader at Plum Creek Park. The day unraveled from there and visiting Midland walked away with a sweep in a matchup of two teams in the thick of a crowded race for the GPAC regular-season title. The Warriors won by scores of 9-3 and 16-4.
The pair of defeats has made the margin of error razor thin in Concordia's bid for its first conference championship since 1986. At 22-22 overall and 8-6 in conference play, second-year head coach Ryan Dupic's squad now sits two games in the loss column behind Midland and Briar Cliff atop the league standings.
In back of ace right-handed senior Mark Harris, the Bulldogs led for the bulk of game 1. Harris held a potent Midland lineup scoreless over the first three frames before surrendering an unearned run in the fourth. Harris fired 5.2 innings while allowing seven hits and two walks. He was lifted with the game tied, 3-3, with two outs in the sixth.
Dupic then turned to closer Josue Melchor who induced a groundout with runners on first and third to end the threat. Trouble came the following inning when Melchor gave up RBI singles to Cole Gray and Zach Belanger and then the game's big blow – a grand slam by Colby Taylor.
Midland (31-15-1, 10-4 GPAC) picked up where it left off by piling up 13 hits and by drawing eight walks in the capper. Deven Ralston blasted two home runs and Gray crushed one of his own in the game 2 rout. The Warriors tagged starter Cole Jackson for seven runs (all earned) on four hits and four walks. In the fifth inning, a dropped pop up allowed three unearned runs to come around for Midland.
Right fielder Alex Alstott went 3-for-3 with a triple and a walk in game 1. Taylor Dudley supplied the only Concordia runs of game 2 with a grand slam in the top of the seventh. Geiger's home run leading off the bottom of the third of game 1 was his seventh of the season, tying him with Christian Montero for the team lead. Concordia has now hit 32 home runs in 2016 – four shy of the team single-season record held by the 2000 Bulldogs.
Dupic used four different relievers on Saturday. Of them, Todd Oberthien was the only one that went unscored upon.
Saturday was senior day for Concordia. The Bulldogs honored a group of eight seniors between games of the doubleheader. The senior class included Alstott, a first team all-conference selection in 2015.
The Bulldogs turn around for two more on Sunday at GPAC rival Doane (20-18, 5-9 GPAC). On Saturday the Tigers swept a doubleheader from another rival, Nebraska Wesleyan, winning by scores of 19-13 and 10-9.