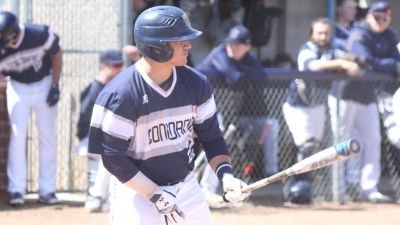 CRETE, Neb. – In a matchup with GPAC front-running Doane, the Concordia University baseball team essentially came up one pitch or hit short of a doubleheader sweep Saturday (April 21) in Crete. The Bulldogs broke from the day with a 10-7 win in game one and a 5-4 loss in game two. Concordia just completed the second day of a stretch of three-straight days with a twin bill.
Fourth-year head coach Ryan Dupic's squad now stands at 20-17 overall and at 8-10 in conference play. The Bulldogs have won at least 20 games in each of Dupic's four seasons leading the program.
"It was really neck-and-neck both games, especially the second game," Dupic said. "I think our entire conference this year is tight. There are a lot of teams that are very similar. It really just comes down to being able to get a big hit here and there. The first game we did that. Christian Meza was incredible the first game. He was as good as he's ever been. He was highly motivated to play today and was very good."
Meza has firmly established himself as a star this season. He went a perfect 4-for-4 with an intentional walk in the opener (before sitting out the second game with an injury that is hoped to be minor). Meza turned in an RBI double in both the fifth and seventh innings as part of his monster game. By day's end, the San Diego area native raised his season batting average to .421.
Meza had help from his teammates. Concordia pounded out 14 hits and took four walks in game one. Keaton Candor, Dylan Jacob and Thomas Sautel all went 2-for-4 with Jacob and Sautel both driving in a pair of runs. Out of the No. 9 slot, Logan Ryan went 1-for-2 and scored four times in the opener. Those efforts helped Jason Munsch pick up the win. He allowed five earned runs on 10 hits and three walks over 5.2 innings.
Neither team scored after the fourth inning of game two. The Bulldogs had the lead as late as the top of the fourth when Wade Council's two-run single provided a 4-3 lead. Doane responded with two runs in the bottom half. The Tigers (24-17, 13-5 GPAC) protected their one-run advantage the rest of the way behind the pitching of starter Travis Cowan and Carter Cummins.
Concordia would have liked to have had Meza's bat in the close defeat. In his place, Luciano DePamphilis got the start at second base in game two. DePamphilis went 2-for-4 and scored a pair of runs. Johnny May also notched a pair of hits while knocking in one run and scoring another. Council was tagged with the loss. He covered 4.1 innings, allowing five runs (four earned). Nathan Buckallew and Wyatt Weller combined for 3.2 scoreless innings out of the bullpen.
Concordia and Doane are scheduled to complete their four-game weekend series with a Sunday matinee at Plum Creek Park in Seward. First pitch is slated for 1 p.m. CT. The Bulldogs are 3-3 at home while the Tigers are 9-5 in true road games this season.