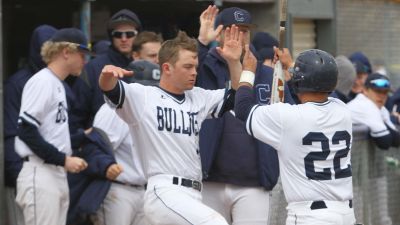 SEWARD, Neb. – Other than warmer weather, head coach Ryan Dupic could not have asked for much more from his team's home opening doubleheader on Friday afternoon (March 23). Christian Meza recorded seven hits while starting pitchers Cade Moring and Nick Little put forth dominant performances, leading the Concordia University baseball team to a sweep of visiting Mount Marty. The Bulldogs won by scores of 10-2 and 7-5.
Dupic's squad has been on a nice run, winning four in a row and six of its last seven. The defending GPAC regular-season champs have jumped to 14-7 overall and to 2-0 in conference play.
"I was really happy with the guys. They played really loose," Dupic said. "I just thought they were very relaxed. We didn't change anything from what we've been doing up to this point, which is a big deal. I think sometimes you get to conference play and maybe guys try to do a little too much. We had good at bats and were really good offensively throughout the day and got two really good starts."
A junior second baseman, Meza just keeps finding holes. He's hitting a cool .470 this season after going 7-for-10 with five RBIs on Friday. He enjoyed a 5-for-5 effort in game one. He's already collected 13 multi-hit games on the year.
Meza was a royal pain for Mount Marty hurlers. Meza delivered a knockout blow in game one with a two-run single in the bottom of the sixth to add Concordia's ninth and 10th runs of the contest. In game two, Meza singled through the left side to knock in a pair of runs that put the Bulldogs up 4-1 with two outs in the fourth.
"Pretty much just getting a pitch to hit," explained Meza of his hot start. "It's just about putting the bat to the ball and not thinking. Good things happen when you're relaxed in the box."
The way things are coming together at the plate and on the mound should concern Bulldog opponents. Moring seemed to be throwing an invisible ball the way Lancer hitters whiffed at his nasty breaking stuff. Over a seven-inning complete game, Moring piled up a career high 15 strikeouts while allowing two earned runs on four hits and four walks. The Eager, Ariz., native struck out the side three separate times.
Little pitched more to contact, but was similarly impressive. He did not allow an earned run over eight innings of work. He surrendered four hits and one walk and struck out three. He retired 11 hitters on fly outs and eight on groundouts. Little is 4-1 with a sparkling 1.38 ERA through his first five outings. He's covered at least seven innings in each of his starts.
"Cade was terrific," Dupic said. "His last start wasn't his best and we talked after it. You could tell he had a real clear vision of what he wanted to do today. He was real organized and ready to go. He was making pitches real well and then Nick did the same. I'm not sure it was his best stuff, but he made pitches and kept repeating it."
In the opener, Thomas Sautel went 2-for-4 with two RBIs and Brandon Cue drove in two as part of a 12-hit attack. Concordia rapped out 13 more hits in the capper. Five Bulldogs had two or more hits: Johnny May (3-for-4), Dylan Jacob (2-for-4), Wade Council (2-for-4), Keaton Candor (2-for-5) and Meza (2-for-5). Jacob blasted the day's only homer, a solo shot to lead off the bottom of the eighth in game two. Jacob's home run initiated a three-run frame that provided a 7-2 lead.
Mount Marty (14-8, 0-2 GPAC) has gotten out to a solid start and was ranked fourth in this week's GPAC poll. Mason Kaitfors had a 3-for-8 day at the top of the lineup for the Lancers, who got a nice start from Derek Miller in game two. He allowed only one earned run over seven innings.
The Bulldogs are scheduled to host Morningside (7-10-1) in a twin bill set for a 1 p.m. CT start on Sunday. The Mustangs are slated to open up GPAC play Saturday at Midland.