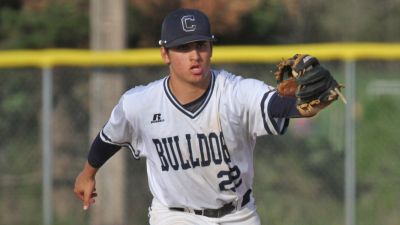 SPRINGFIELD, Mo. – The Concordia University baseball team found day two in Springfield, Mo., more to its liking. After getting swept in Sunday's season-opening twin bill at Evangel University, the Bulldogs brought out their own brooms on Monday afternoon (Feb. 26). They toppled the Crusaders by scores of 4-0 and 19-3 behind an explosive offense and two rock solid pitching performances.
The depth of fourth-year head coach Ryan Dupic's pitching staff figures to be an asset all season, particularly in situations like this when Concordia plays doubleheaders on back-to-back days. It doesn't hurt when you can knock four baseballs over the fence either.
"We feel like on that second day we're going to have a couple more good starting pitchers going," Dupic said. "It played out that way today with Nick Little doing a really nice job in game one. It's one of the better games he's pitched. And Wade (Council) was cruising pretty good. We just got in a situation where we thought it would be beneficial to get some other guys out there. Once we get to that second day, on paper, we have a chance to be in an advantageous position."
Not known as a slugger, second baseman Christian Meza muscled up out of the cleanup spot. On the day, he went 4-for-5, reached base seven times, scored four runs, drove in five tallies and drilled a pair of home runs in game two. One of those big flies came during the Bulldogs' 11-run first inning that gave starting pitcher Wade Council a sizeable cushion before he even threw a single pitch. Keaton Candor and Kaleb Geiger also went deep in the blowout game two victory.
Lithia, Fla., native Nick Little did not need much run support in game one. He scattered four hits and four walks while recording the first shutout of his career. The sophomore struck out six hitters and induced nine groundouts in a strong first appearance of 2018. In game two, Council tossed four innings, allowing two unearned runs on three hits and a walk.
Candor, Geiger and Meza formed a dynamic trio in the two through four spots in the lineup. Geiger reached base six times while going 3-for-5 with the 15th home run of his career. He also added his 42nd career double, tying Jarrod Pimentel for a program career record. Candor moved up to the No. 2 spot in the order and homered for the second day in a row. The freshman outfielder from Merrill, Iowa, drove in four runs and walked three times in Monday's second game.
Meza has been more of a doubles hitter since arriving at Concordia prior to the 2016 season. His two home runs on Monday were more than he had in his first 94 career collegiate games.
"Those were two of the best balls we've seen him hit," Dupic said. "He's certainly trained hard. We have high expectations for him. We're hoping he'll be able to do that a little bit."
During the 11-run frame, the Bulldogs sent 14 hitters to the plate. Evangel (7-6) needed three different pitchers just to navigate the first inning of game two. The entire Crusader staff struggled mightily, issuing 11 walks and six hit-by-pitches in the capper. At the plate, Evangel hitters combined for 10 hits on the day.
The Tucson Invitational (March 3-9) is up next for Concordia, which will play 11 games over a seven-day period in Tucson, Ariz. The desert swing will begin on Saturday, March 3 with a doubleheader versus William Penn University (Iowa).