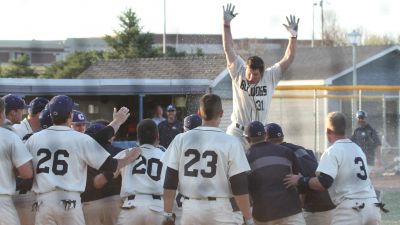 SEWARD, Neb. – Johnny May never hit a home run in little league or high school. Never. But on Sunday he rounded third, received a water shower courtesy of teammate Christian Montero and then leaped high into the air before landing on top of home plate amongst a throng of frenzied teammates.
For the second-straight day, the Concordia University baseball team celebrated a walk-off victory to close out a GPAC doubleheader. Like Montero with the water cooler, it was hard to see it coming from the diminutive outfielder.
"I didn't see him until I got about halfway around third," May said. "I saw him wind up and throw it at me and I was bracing for it."
It was a 2-2 offering from Briar Cliff reliever Luke Lindsey that May pulverized over the left field fence with the game 2 score tied, 8-8, in the bottom of the ninth. The Johnston, Iowa, native emerged as the hero a day after Christian Meza rapped out a walk-off RBI single to conclude a wild 11-10 game 2 win over Dakota Wesleyan. Second-year head coach Ryan Dupic's squad now stands at 16-16 overall and 2-2 in the conference after Sunday's split. Briar Cliff won the first game, 16-8. Concordia won the second, 9-8.
"I'm so proud of him. He's a fantastic kid," Dupic said of May. "I don't know how many home runs he hit in high school. It wasn't very many if he did hit any. He's had three for us already. He's really done a nice job. He's a big sparkplug. He's very dynamic."
With his third home run of his freshman campaign, May rendered the controversial call at the plate in the top of the ninth essentially meaningless. The Bulldogs had grabbed an 8-7 lead via Montero's two-run blast to center in the bottom of the eighth. However, the defending GPAC regular-season champion Chargers (18-16, 2-2 GPAC) extended the game with Scott Morton's RBI single to left center. The play ended with Josh Penrod being ruled safe as he eluded the tag of catcher Ryan Fesmire up the third base line.
Similar to Saturday's win over Dakota Wesleyan, the Bulldogs waited until the latter stages of game 2 to come alive offensively. Concordia came back from a 7-4 deficit entering the bottom of the eighth. May started the rally by getting hit with a pitch. He then scored on Kaleb Geiger's double into the right center gap. Montero followed immediately after with his go-ahead blast.
Montero enjoyed another solid offensive day that saw him go 3-for-7 with the homer in addition to a double and a pair of runs driven in. As part of the game 2 win, Fesmire (2-for-3), May (2-for-4) and Montero (2-for-5) each collected two hits. Alex Alstott reached base three times and scored three runs out of the leadoff spot. Meza collected three hits in game 1.
Concordia continues to try to shore up a pitching staff that has struggled of late. Lefty starter Taylor Bickel was chased in the first inning of game 1 and took the loss. In his first career varsity appearance, freshman Ben Kruse started game 2 and fired three solid innings (one run allowed on two hits and two walks). Out of the bullpen, Tanner Wauhob threw 2.2 shutout innings in game 1.
Though the hurlers are still ironing things out, the Bulldogs have shown they can put runs up in bunches. They're closing in on the program's single-season runs scored record set last year.
"We're seeing more tenacity offensively," Dupic said. "I think we're giving less at bats away. We've been a little bit better at getting our pitch and keeping it in the strike zone. As we've gotten a feel for things we've done a nice job as we get into the late part of the game."
May showed off his multitude of skills on Sunday. He scored two runs as a courtesy runner in game 1 and legged out an infield hit in game 2 before his no-doubter home run. He's comfortable in his role.
"I go in there with the mentality that I know I can do it," May said. "I just want to get the job done for the guy behind me so he can pick me up."
The Bulldogs will be right back at Plum Creek Park on Tuesday when they host No. 16 York College (26-9) for a single nine-inning game. First pitch is set for 5:30 p.m. in Seward.