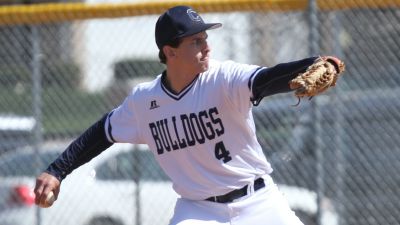 SEWARD, Neb. – One of the top seasons ever by a Concordia pitcher continued while another set a new program single-season record as part of Saturday (April 28)'s action at Plum Creek Park. Behind ace Nick Little, the Bulldog baseball team clinched a spot in the conference tournament. Concordia regrouped from a 4-2 loss in game one to claim a 3-1 victory in game two against visiting Dakota Wesleyan.
It's the final weekend of the regular season for fourth-year head coach Ryan Dupic's squad. The Bulldogs have moved to 23-20 overall and to 11-13 in GPAC play.
"It was a pretty good day for both sides pitching-wise and defensively," Dupic said. "It was one of those days where both teams struggled to score a little bit. Cade (Moring) was terrific and Nick Little was really good. Jake Fosgett competed through his inning. Sometimes you have to grind it out a little bit and stay the course. We made some big plays and some big pitches and were able to get a win in the second one."
Little, a sophomore from Lithia, Fla., has been making big pitches all year long. Little worked eight innings on Saturday and pushed his school record win total to nine. In the process, he surrendered one earned run on six hits and one walk while registering a career high 13 strikeouts. Little has covered at least seven innings in all 11 of his starts this season.
Little enjoyed a solid freshman campaign in 2017, but he's having an out-of-this-world sophomore season.
"I'm throwing a little bit harder this year and I actually have a strikeout pitch," Little said. "My slider's a lot better than it was last year. I'm able to miss some bats this year and that definitely helps. Giving up home runs isn't too fun."
Moring has a wipeout breaking ball of his own. He really got rolling after one bad inning (a four-run fourth) and finished with 11 strikeouts over a seven-inning complete game. His eighth strikeout of the day, which ended the top of the sixth, pushed him past Jim Juergensen for the most strikeouts in a single season in school history. By day's end, Moring had pushed his season strikeout total to 98.
Timely hits were good enough to get the job done in game two. Evan Bohman blasted a solo homer in the first inning. Five innings later, Concordia finally took the lead for good when Thomas Sautel doubled home a pair of runs. Bohman had two of the team's five hits in the second game. The Bulldogs were held to six hits in the opener by Gavin Reichmuth. Wade Council went 3-for-3 with a homer and Sautel went 2-for-3 with an RBI in game one.
Concordia just needed to get one victory on Saturday to ensure itself a spot in the eight-team conference tournament. Dakota Wesleyan (11-26, 7-17 GPAC) and Dordt (10-26, 7-19 GPAC) are the two teams that will be left out of postseason play.
Saturday was senior day for the Bulldogs. The current senior class is the winningest in program history. The group includes the likes of Moring and Kaleb Geiger, the program's career record holder for doubles, RBIs and putouts. Dupic continues to gush about the growth of Moring.
"I've coached for 11 years and I'm as proud of him as any player I've coached," Dupic said. "He's just worked hard and stuck to what he needs to do to improve. I'm proud of the way he pitched today. He had one little rough inning there in the middle. A lot of guys would have cashed it in but he goes back and puts up four zeroes and gives us a chance to win."
The Bulldogs and Tigers will complete a four-game series and put a bow on the regular season on Sunday. First pitch from Plum Creek Park is set for 1 p.m. CT. The GPAC tournament will get started on Thursday, May 3.