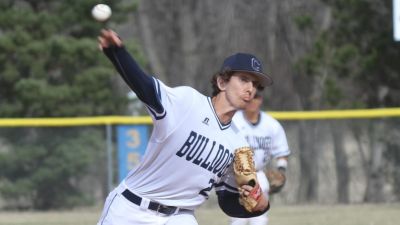 TUCSON, Ariz. – At the conclusion of 18 innings of action on Sunday (March 4), the Concordia University baseball team emerged with a pair of victories while striking for a combined 23 runs against NCAA Division III opponents. The Bulldogs blew out Rockford University (Ill.), 11-2, and then out-slugged Gustavus Adolphus College, 12-10, in the nightcap.
Fourth-year head coach Ryan Dupic's is now 3-1 at the Tucson Invitational and 5-3 on the young season. Concordia has stormed the desert by averaging 10.0 runs per game on the road trip.
"Offensively we weren't completely sure what we would have, but we saw some good signs," Dupic said. "We saw some really good things in our at bats indoors. There may be some highs and lows at times. We're seeing our guys start to come together. The talent is there. It's an issue of consistency and continuing to string at bats together."
The offensive outbursts are only part of the story. Little has been dominant in his first two starts of 2018. After running into some trouble early versus Rockford, the sophomore from Lithia, Fla., found a groove and retired the final 18 hitters he faced. While covering eight innings, Little allowed only four hits and a walk and struck out nine. He has surrendered just a single run over 15 innings this season.
On Sunday, Little allowed a run in the second and then worked out of a third-inning jam. He was nearly unhittable the rest of the day.
"He's been executing pitches really well," Dupic said. "First time out it was his fastball and today it was his slider. He had a better slider today than he's probably ever had. He was pretty dominant. Once he got going those last 18 hitters there weren't a lot of hard outs. He was really sharp."
Out of the No. 3 spot in the lineup, first baseman Kaleb Geiger went 4-for-6 with a triple and three RBIs in the opener. His bases-clearing three-bagger in the sixth helped break open a 5-1 advantage. Leadoff hitter Wade Council doubled twice, scored twice and walked twice in the victory. It was also a big day for freshman outfielder Keaton Candor, who tripled in the first game and then went 4-for-4 with two doubles with one of the team's seven stolen bases off of Gustie pitching. Dylan Jacobs also pounded out three hits and recorded three stolen bases and three RBIs in the evening affair. Meanwhile, Christian Meza rapped out four hits on the day.
In game two, Dupic pieced together nine innings from the pitching staff by getting 3.2 innings from Council, 3.1 from Wyatt Weller (winning pitcher) and two from Jake Fosgett, who helped put out a fire in the eighth. Fosgett closed the door with a scoreless ninth while earning a six-out save.
Rockford dropped to 0-3 while Gustavus Adolphus slipped to 2-3.
Monday (March 5) will be a relatively light day with the only game being a nine-inning affair with Grand View University (Iowa) as the Tucson Invitational rolls on. First pitch is set for 6 p.m. MT / 7 p.m. CT on field 4 at the Kino Sports Complex.