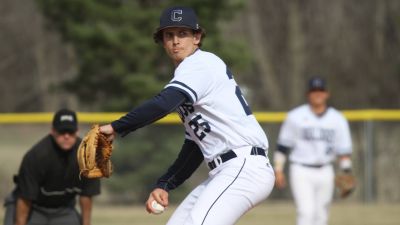 SEWARD, Neb. – The first weekly honors of the 2018 season have been released by the GPAC. On Tuesday (March 6), the conference named sophomore Nick Little the GPAC/Hauff Mid-America Sports Pitcher of the Week. An honorable mention all-conference choice in 2017, Little has picked up the first GPAC weekly award of his career.
A native of Lithia, Fla., Little has been nearly spotless in his first two starts of 2018. In a 4-0 win at Evangel University (Mo.) on Feb. 26, Little notched the first shutout of his collegiate career. He blanked the Crusaders over seven innings while allowing four hits and four walks to go along with six strikeouts. Then on Sunday at the Tucson Invitational, Little tossed eight innings of one-run ball. He struck out nine and surrendered only four hits and one walk. His season ERA stands at 0.60 through 15 innings.
Little topped the 2017 GPAC regular-season championship team with 70 innings pitched. He went 6-3 and recorded an ERA of 4.37 while making 12 starts. He completed three of them.
Head coach Ryan Dupic's squad will continue action in Tucson on Wednesday with games against Simpson College (9 a.m. MT / 10 a.m. CT) and Valley City State University (12:30 p.m. MT / 1:30 p.m. CT). Concordia is 3-2 on the trip and 5-4 overall this season.