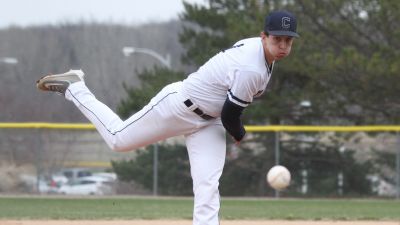 SEWARD, Neb. – In the same week that Nick Little collected the GPAC Pitcher of the Year award, he also picked up another honor for his work both on the mound and as a student. On Thursday (May 10), Little was named to the 2018 Google Cloud Academic All-District® Baseball Team, as selected by College Sports Information Directors of America. More specifically, Little landed on the District 3 team of the College Division.
The Google Cloud CoSIDA Academic All-District® Baseball Teams have been released to recognize the nation's top student-athletes for their combined performances athletically and in the classroom. For more information about the Academic All-District® and Academic All-America® Teams program, please visit http://cosida.com.
This marks back-to-back seasons that the Concordia baseball program has had a player named Academic All-District. Other award winners in school history were Jake Adams (2017) and Jaydee Jurgensen (2015). The first-ever Bulldog to be selected as GPAC Pitcher of the Year, Little broke or equaled school records for wins (nine), innings pitched (91.1) and complete games (eight) this spring. He recorded a 2.36 ERA and 90 strikeouts while allowing 81 hits and 23 walks over his 12 starts. He covered at least seven innings in all but one outing. A sophomore from Lithia, Fla., Little is majoring in business administration.
Academic All-District® honorees advance to the Google Cloud CoSIDA Academic All-America® Team ballot, where first-, second- and third-team All-America honorees will be announced on Monday, June 4.
2017-18 Academic All-District Honorees
*Philly Lammers, Basketball
*Hallick Lehmann, Football
Nick Little, Baseball
2016-17 Academic All-District Honorees
Jake Adams, Baseball
*Amy Ahlers, Golf
*Chandler Folkerts, Basketball
Le'Dontrae Gooden, Football
*Hallick Lehmann, Football
*Sam Liermann, Track & Field
*CJ Muller, Track & Field
Lucas Wiechman, Track & Field
2015-16 Academic All-District Honorees
*Amy Ahlers, Golf
*Stephanie Coley, Track & Field
*Chandler Folkerts, Basketball
*Hallick Lehmann, Football
Adam Meirose, Football
Becky Mueller, Basketball
*CJ Muller, Track & Field
*Kim Wood, Cross Country/Track & Field
2014-15 Academic All-District Honorees
Amy Ahlers, Golf
*Brendan Buchanan, Soccer
Stephanie Coley, Track & Field
*Chandler Folkerts, Basketball
Jaydee Jurgensen, Baseball
Adam Meirose, Football
Bailey Morris, Basketball
*Rachel Mussell, Soccer
Shawn Rodehorst, Golf
Ben Sievert, Cross Country/Track & Field
Melissa Stine, Soccer
*Academic All-American