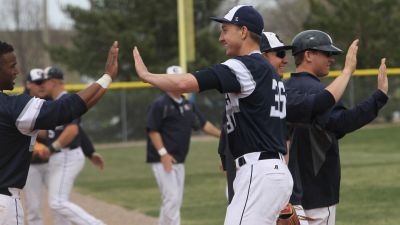 SEWARD, Neb. – Right-handed hurlers Ben Kruse and Josue Melchor combined on a seven-inning no-hitter in a 1-0 pitcher's duel before the Concordia University baseball team muscled up for a 17-0 game 2 victory to complete a doubleheader sweep of visiting Mount Marty on Sunday afternoon. It marked the first time in program history that the Bulldogs have recorded shutouts in both ends of a GPAC twin bill.
Second-year head coach Ryan Dupic's squad has now won five-straight conference games while improving to 20-17 overall and 6-2 in GPAC play. Concordia sits tied atop the league standings with 12 GPAC games remaining.
While offensive outbursts have been a theme throughout much of this season, pitching ruled Sunday's opening contest. After having faced the minimum through five innings, Ben Kruse exited the game after walking the first batter in the sixth. Ace reliever Josue Melchor then retired the next six hitters, though out No. 1 of the seventh did not come easy. Third baseman Casey Berg made a diving snare to his right and then fired to first in plenty of time.
Two batters later the Bulldogs celebrated a no-hitter when Bo Howard struck out swinging.
"It was very neat to see," Dupic said. "We made some great plays defensively. Ben and Josue both threw the ball really well. They were really aggressive. It's something that I'm sure they'll remember for a long time."
Kruse has earned his way into the varsity rotation after beginning the season on the junior varsity. Of the 16 batters he faced, three reached base – all via walks. He struck out three while inducing seven ground outs and three fly outs. Melchor then picked up his third save with a sharp two innings. During which he punched out two Lancer hitters.
Mount Marty, which entered play with a .294 team batting average, mustered just two hits the entire day, both from Howard in the second game. Lefty Taylor Bickel (4-2) and relievers Jared Schipper, John Mellen and Todd Oberthien collaborated on a seven-inning, two-hit shutout to close a 4-0 weekend within the conference. Bickel covered the first four innings and struck out three without issuing a free pass.
First baseman Kaleb Geiger again made noise, literally, with his powerful bat. His grand slam in the fifth inning of game 2 pelted the new scoreboard in right center and pushed Concordia to 290 runs on the year, breaking the program's single-season runs record set in 2015. Geiger also doubled and drove in five runs total. Nine different Bulldogs had at least one hit in the second game. Geiger was one of three with two knocks, joining Johnny May (2-for-3, three runs, RBI) and Christian Montero (2-for-3, two runs).
Catcher Drew Woods got into the act by belting his first career homer, a two-run shot to right in the bottom of the sixth of game 2. The Bulldogs also got four runs in the second and seven in the third. The second-inning splurge got started with a Montero double and Taylor Dudley RBI single. The next three runs all came home on RBI bunts. In the third, Berg cracked a run-scoring triple and Christian Meza laced a bases-clearing double.
Having won its four weekend games by a combined score of 47-6, Concordia's confidence has skyrocketed.
"I think the guys are feeling pretty good," Dupic said. "They've been having a lot of fun lately. It's been great to see. They're out their having a great time. When guys make comments about how much fun they're having around each other that's when you know it's starting to become something good. Hopefully we'll keep it rolling into next week."
Only two Concordia pitchers have been documented as having thrown complete game no-hitters. The last to do so was Keith Doehrmann versus West Florida in 1979. Jim Juergensen held Northwest Iowa hitless in 1962.
The Bulldogs will dip back outside of the conference on Wednesday with a trip to Grace University (0-16) for a 7:05 p.m. first pitch. Conference play resumes with four games next weekend in western Iowa.