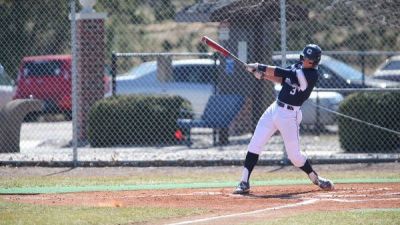 Jurgensen, Ryan shut down Presentation in doubleheader sweep
TUCSON, Ariz. – The Concordia University baseball team continued a successful run in Tucson, Ariz., with two more victories on Thursday morning. The Bulldogs swept a doubleheader from Presentation College (S.D.), winning by scores of 5-0 and 4-1.
First-year head coach Ryan Dupic's squad improved to 8-5 overall, including a record of 6-1 on the current Arizona swing that will conclude with a twin bill on Friday morning.
The starting pitching combo of senior lefty Jaydee Jurgensen and righty Neil Ryan covered all but one third of an inning in masterful performances that took the heat off a hot Bulldog offense.
"We've been playing so well offensively, it was nice to have a day where our pitching carried us," Dupic said. "Jaydee set the tone in the first game. He established his fastball and then got into his break stuff. He was able to really keep them off balance."
Jurgensen (3-0) racked up nine strikeouts and allowed only two hits and a walk in his game 1 shutout of the Saints. Ryan nearly matched that performance in game 2. The native of Grand Junction, Colo., went 6.2 innings and scattered six hits and five walks. He allowed a single unearned run and struck out two.
Concordia gave Jurgensen all the support he needed with a three-run second inning. Alex Alstott got the Bulldogs on the board with an RBI triple. Ryan Fesmire and Alex Cargin followed with RBI singles. Then in the fifth, Kaleb Geiger and Tyler Nelson both recorded run-scoring singles.
In game 2, Alstott struck again with his first career homer as a Bulldog to lead off the first. Zach Cambier added an RBI single in the opening inning. All scoring was capped in the third inning when Sean McCartney and Casey Berg both singled in a run.
Edwin Izumigawa, the only reliever used on Thursday, entered game 2 with two outs in the seventh. He struck out the only hitter he faced to earn the save.
Dupic says his team came into the day with plenty of energy despite the early-morning start.
"There's definitely a lot of energy and excitement," Dupic said. "Our guys were really ready to play. We had a 9 a.m. start local time and I wasn't concerned at all. Our guys were really excited to be here and they played with a lot of energy and enthusiasm."
The Bulldogs will finish their spring break trip Friday morning with a doubleheader against Mayville State University (N.D.). First pitch is slated for 8:30 a.m. MST / 10:30 a.m. CDT. The Comets are off to an 11-5 start following a 41-16 overall mark in 2014.