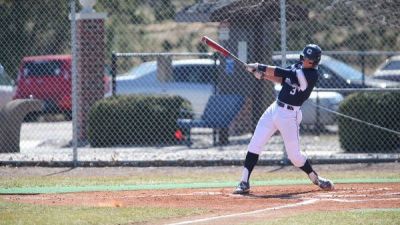 Jurgensen muzzles Prairie Wolf bats in game 1 victory
LINCOLN, Neb. – A near-perfect outing from starting pitcher Jaydee Jurgensen paved the way for a 6-0 blanking of host Nebraska Wesleyan in game 1 of Friday afternoon's GPAC doubleheader in Lincoln, Neb. The Prairie Wolves then nipped Concordia, 4-3, in game 2 as part of a snappy pair of games played in windy, brisk conditions.
The Bulldogs have now split each of their first three conference doubleheaders. First-year head coach Ryan Dupic's squad sits at 19-9 overall and 3-3 in GPAC action.
Jurgensen mesmerized Nebraska Wesleyan (7-14, 3-3 GPAC) on the way to recording his second shutout (team's fourth) of the season. The Prairie Wolves managed only two hits and one walk while striking out nine times against the senior left-hander. After loading the bases in the second inning, Jurgensen maneuvered out of the jam with a strikeout and proceeded to dominate the rest of the way.
"He was great," Dupic said. "I thought he came out pretty good. He had a couple tough situations early on in the ball game, but he just really settled in and looked really comfortable out there. He was mixing all of his pitches. I'm really proud of the way he set the tone for us today."
Jurgensen (5-0) remains unbeaten over seven starts. He lowered his ERA to 2.63 and tallied his third complete game of the 2015 campaign.
"Early on I didn't have great stuff as far as commanding the off-speed pitches," Jurgensen said. "I got out of one jam in the second inning. As soon as I was able to start locating the slider and curveball, I was pretty successful. They hit a lot of soft ground balls in the infield that (Alex) Cargin, (Casey) Berg and (Kaleb) Geiger made some really good plays on."
Concordia got out on top with a pair of runs in the second inning of game 1. Catcher Ryan Fesmire got the Bulldogs going with an RBI single to center. Cargin then drove a sacrifice fly to right. Four innings later, Concordia distanced itself from Wesleyan with three more runs (RBI singles by Zach Cambier and Berg). Jurgensen made it an anticlimactic 1-2-3 bottom of the seventh to close out the win.
Cambier went 4-for-7 with a pair of RBIs on the day. Leadoff hitter and center fielder Alex Alstott recorded a 3-for-7 afternoon that included his ninth triple of the season (tied for most among all NAIA players). Alstott (2-for-4), Cambier (2-for-3), Taylor Dudley (2-for-4) and Fesmire (2-for-3) each had two hits in the opener.
Game 2 marked the first loss of the season for freshman righty Neil Ryan (4-1), the reigning GPAC pitcher of the week. The Grand Junction, Colo., native surrendered three earned runs over 5.2 innings, doubling his number of season earned runs allowed to six. It was the first time this season Ryan gave up more than a single earned run in an outing.
At the plate, Concordia managed seven hits in game 2. Geiger knocked in two runs in the nine-inning loss. Prairie Wolf starter Jordan Haas was credited with the win. He worked around five walks over five frames. Shane Watteyne covered the final four innings and earned the save.
Though the Bulldogs failed to come up with one more key hit that may have enabled them to leave Lincoln with a sweep, Dupic liked the way his team swung the bats.
"I'm really happy with their approach," Dupic said. "We talked a lot about the way they were going to be pitched in the first game. I thought they did a nice job letting the ball travel a little bit and mixing things up. We were able to bunt at times and hit and run at times. We made some things happen on the bases. It was really one of our more complete offensive games in the first one."
Before celebrating the Easter break, the Bulldogs host Hastings (14-13, 2-4 GPAC) for a 1 p.m. doubleheader at Plum Creek Park on Saturday. Concordia has won five of its first six home contests of the season.