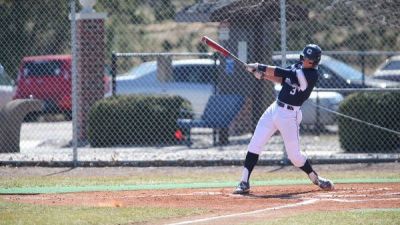 Jurgensen hurls gem to lead Bulldogs in season-opening doubleheader
LINDSBORG, Kan. – Opening day under first-year head coach Ryan Dupic produced a doubleheader split for the Concordia University baseball team at Bethany College in Lindsborg, Kan., on Saturday afternoon. After a 7-2 loss in game 1, the Bulldogs bounced back behind lefty starting pitcher Jaydee Jurgensen for a 6-1 victory over the host Swedes (6-3) in the capper.
Dupic, who spent the previous seven seasons as the top assistant at NCAA Division III Buena Vista University, earned his first career victory as a collegiate head coach. After a sloppy opening game, Concordia cleaned up its act in game 2.
"I'm very proud of the way we responded," Dupic said. "The first game we didn't defend the way we need to. I thought (starting pitcher) Will (Holbrook) and Taylor (Bickel) did a good job on the mound for us and we had some situations where we could have scored. We just didn't get that big hit.
"I thought we had a much better rhythm in the second game. Jaydee really set the tone. He was outstanding mixing in a couple different pitches. Our relievers did a nice job and I'm proud of our offense for adding some runs on late."
Jurgensen, a former Kansas University pitcher, battled injury last season – his first as a Bulldog. Now healthy, the Lincoln native scattered five hits and four walks while punching out four Bethany hitters in 6.2 scoreless innings of work. The trio of Neil Ryan, Josh Prater and Heath Benker navigated the final 2.1 innings out of the bullpen. The relievers combined on six strikeouts.
Offensively, Dupic unveiled a 2015 lineup that got some juice from newcomers such as outfielders Alex Alstott and Taylor Bigandt on Saturday. A native of Fort Dodge, Iowa, Alstott tripled once in both ends of the twin bill. Meanwhile, Bigandt went 3-for-7 out of the No. 5 spot in the lineup.
"Our middle of the order got a boost with some of those guys," Dupic said. "Taylor is swung the bat well and Alstott was a dynamic player with two triples today. I thought (Kaleb) Geiger played a really good third base. I'm really happy with what those guys brought to the lineup."
Game 2 went scoreless until the Bulldogs pushed across an unearned run in the top of the fifth. An inning later Sean McCartney followed a Bigandt triple with a sacrifice fly. Concordia then put up four insurance runs in the eighth. Two of those tallies came around on Tyler Nelson's pinch hit two-run single.
The opening contest featured a seven-inning complete game by Swede pitcher Clayton Cozzitorto. Concordia fell despite outhitting Bethany, 9-8. Last season's defensive issues resurfaced as the Bulldogs committed five errors that led to all seven runs being unearned.
Holbrook finished with a line of four innings, seven hits, seven runs (all unearned), three walks and three strikeouts. Bickel tossed up zeroes in his two frames in relief.
Saturday's doubleheader was played in cool temperatures of around 40 degrees at first pitch. Wind gusted at roughly 20-25 miles per hour.
Due to chillier forecasted temperatures on Sunday, Concordia's scheduled doubleheader at Bethany has been canceled. Up next for the Bulldogs is a Feb. 24 date with Kansas Wesleyan University. The twin bill is slated to get underway at 12 p.m.