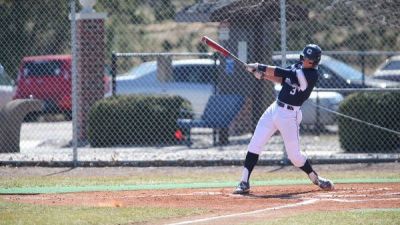 Holbrook tosses masterpiece but Bulldogs fall twice in season-opening doubleheader
LINDSBORG, Kan. – A pair of junior college transfers made their Bulldog debuts on the mound as the Concordia University baseball team opened the 2014 season with a doubleheader at Bethany College (Kan.) on Sunday afternoon. Concordia's bats were kept quiet as the Swede pitching staff paved the way for Bethany (6-3) wins by scores of 5-1 and 2-1.
Game two was not decided until the 10th inning when the Swedes' Nicholas Ceccarelli singled in the walk-off run off of Bulldog reliever Heath Benker. That capped a frustrating offensive game in which Concordia managed only two hits on a chilly afternoon with the wind blowing in.
"I was pleased with our approaches from most of our guys," 17th-year head coach Jeremy Geidel said. "We did a good job transitioning from the indoor cages. We just didn't get production from some guys we are expecting a lot from this season.
"We had our chances. There a couple of hit and runs that we didn't execute. There were some missed opportunities for sure."
Bulldog right-hander Will Holbrook, a transfer from Pima Community College and Tucson, Ariz., native, dazzled in game two in serving as the day's biggest bright spot. After allowing the first three hitters he faced to reach base, Holbrook settled in and retired nine in a row and 18 out of 19. He worked 7.1 innings, surrendering five hits and one run while striking out three and walking none.
"I was very encouraged," Geidel said. "Other than the hiccup at the beginning of the game Will pitched solid. He had very good command and composure. We got exactly what we were hoping for out of him."
At the plate, Concordia could not solve Bethany game two starter Dan Eck, who went nine innings in a game scheduled for seven. Eck dominated in allowing only two hits, two walks and one run.
The Bulldogs did not muster a single baserunner until taking back-to-back walks with one out in the fifth. Left fielder Erik Ellison followed with an RBI single that tied the game at 1-1.
Concordia dropped game one despite out-hitting Bethany 7-6. The Swedes put up three unearned runs in the bottom of the fourth with the aid of an error and three hit batters. They led 4-1 after four and later tacked on an insurance run in the sixth off the Concordia bullpen.
Making his debut as a Bulldog, left-handed starter Jaydee Jurgensen limited the Swedes to three hits and four runs (one earned) over four innings, but he struggled with his control (seven hit batters). His breaking ball repeatedly broke too far in on right-handed hitters.
"Jaydee's a competitor," Geidel said. "He understands what he needs to do to get himself back on track."
Offensively, all seven of Concordia's game one hits were singles. The Bulldogs got their only run when second baseman Mark Wilcox's bases-loaded walk forced in a run following three-straight singles. They then left the bases full when third baseman Andrew Yerrell lined out to right.
Veterans Yerrell, right fielder Daniel Wilkerson and center fielder Cam Gause made up the 3-4-5 spots in the Concordia lineup in both games. Several players made their first career starts, including Tyler Nelson, Cole Stuerke and Ethan Utecht.
Ellison and shortstop Alex Cargin were the only Bulldogs to record multiple hits on the day. Both went 2-for-7.
Playing on a field that had been blanketed by several inches of snow earlier in the week, both teams put together clean defensive games. There was only one combined error committed on the day. Geidel lauded several of his players for spectacular defensive plays.
The Bulldogs complete a four-game series at Bethany on Monday with another doubleheader. The first pitch is slated for 12 p.m.