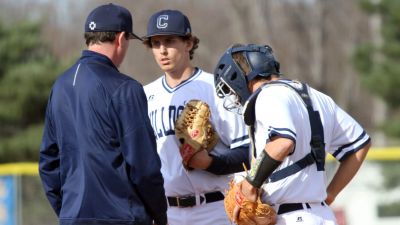 SEWARD, Neb. – One more nonconference date awaits before the Concordia University baseball team opens up the conference schedule this weekend. The Bulldogs will be challenged on Tuesday with a road trip to Friends University (Kan.) for a 2 p.m. CT doubleheader in Wichita, Kan. Concordia then makes a return to Plum Creek to host Northwestern at 2 p.m. on Friday and Dordt at 1 p.m. on Saturday.
This week's schedule
*All doubleheaders
Tuesday, March 21 – at Friends University (16-10), 2 p.m.
Friday, March 24 – vs. Northwestern (9-10), 2 p.m.
Saturday, March 25 – vs. Dordt (7-10), 1 p.m.
Third-year head coach Ryan Dupic's squad has ridden a hot-hitting lineup to a solid 11-7 overall start. Coming off a 3-1 weekend that included two wins over Nebraska Wesleyan and one over the University of Jamestown (N.D.), the Bulldogs lead the GPAC in both runs scored per game (8.3) and home runs per game (1.1). Concordia sports a .307 average, .426 on-base percentage and .507 slugging percentage. Nine different Bulldogs have hit at least one home run.
Senior third baseman Casey Berg has effectively set the table out of the leadoff spot in Dupic's lineup. He is 16-for-34 (.471) with four home runs, two doubles, 10 runs scored and 10 RBIs over the last nine games. Berg entered the year having hit one career home run in 70 games as a Bulldog. Additionally, senior center fielder Jake Adams has blossomed. He's hitting .400 and slugging .667 with two home runs and 10 RBIs.
The depth of the pitching staff will be tested this week. At the top of the rotation, senior lefty Josh Prater (2-1, 2.19 ERA) has provided solid work. Other than Prater, the rotation has been completely remade with the likes of freshmen Wade Council (2-0, 0.00 ERA), Nick Little (2-1, 4.68 ERA) and Jason Munsch (2-0, 3.50 ERA) have made considerable impacts. Council threw an 11-hit shutout versus Jamestown and still has yet to surrender an earned run as a collegiate pitcher. The team ERA of 4.43 is a significant improvement from the 6.12 ERA produced by the 2016 team.
This week's first opponent, Friends, is 6-1 against GPAC opponents having won all three games over Hastings and three of four over Briar Cliff. Augie Isaacson is batting .449 with 10 doubles for the Falcons. Northwestern enters the week trying to shake a five-game losing streak. Red Raider outfielder AJ Nitzschke is off to a hot start, hitting .432 with three homers and 19 RBIs. Dordt will begin GPAC play on Friday, the day before making its way to Plum Creek Park. The Defenders are batting .306 as a team.
In next week's action, Concordia will be at Midland (March 28) and at Mount Marty (April 1).
Live coverage: Steps are currently being taken to attempt to restore the Internet connection in the press box at Plum Creek Park. Should the Internet issues be resolved, Friday and Saturday home doubleheaders will be shown live on the Concordia Sports Network. Friends will have webcasts on Tuesday via its Stretch Internet portal.