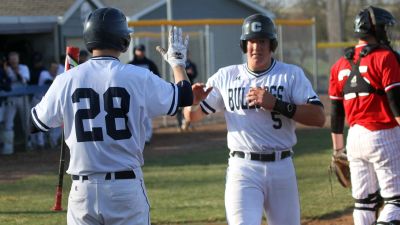 SEWARD, Neb. – Due to postponements, the Concordia University baseball team had to wait three days longer than expected to begin GPAC regular-season play. In Monday's makeup doubleheader at Plum Creek Park, the Bulldogs fell in both ends, slipping by scores of 4-1 and 12-5 at the hands of visiting Northwestern.
Third-year head coach Ryan Dupic's squad has dropped four in a row and now sits at 11-11 overall and 0-2 in the conference. Prior to Monday, Concordia had most recently played at Friends University (Kan.) on March 21.
"It was the first conference game and I thought we were a little tight to start out," Dupic said. "We got into some situations where we maybe tried to do too much. In the second game, we just didn't have a good start. We fell way behind right away. They came out and swung it really well. They outplayed us today and they deserve those two wins. We have to get back up be ready to go tomorrow."
In game 1, the Bulldogs got a solid pitching performance from Josh Prater (six innings, two earned runs), who took a 1-0 lead into the fourth inning. Concordia struck first when Kaleb Geiger doubled home Christian Montero in the bottom of the first. However, Red Raider hurler Raphael DeHoyos settled in from there while striking out seven batters during his six innings on the mound.
Northwestern (12-11, 3-1 GPAC) took the lead courtesy of a pair of unearned runs in the fourth, which got started with Matt Martin reaching on an error on a hard hit ball to second. An inning later, AJ Nitschke homered down the right field line to add insurance.
Game 2 got away from the Bulldogs when the Red Raiders tallied a combined nine runs over the third and fourth frames. Concordia starter Nick Little was tagged for seven earned runs in 2.2 innings. Both Martin and Austin Zylstra went deep in game 2 for the victors.
The top four of the Bulldog lineup did the majority of the damage on Monday. The quartet combined to go 10-for-27 with six runs and five RBIs. Geiger produced a 3-for-8 day that included a pair of RBI doubles. Out of the No. 4 spot, Jason Galeano went 3-for-7 with two runs driven in. Casey Berg reached base three of four plate appearances in the capper and scored three times.
The Bulldogs will turn around quickly and play at Midland (18-6, 0-0 GPAC) at 5 p.m. CT on Tuesday in another GPAC doubleheader. The Warriors, conference regular-season champions in 2016, were picked second in the GPAC preseason coaches' poll. Midland is currently receiving votes in the national poll.
"I'm very thankful to be able to play again tomorrow," Dupic said. "We just want to get back out there and get the bad taste out of our mouths. We have to get a little bit away from the way we've been playing and focus more on our execution and the way we can compete."