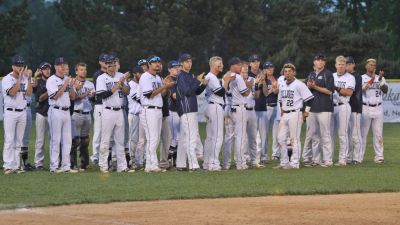 SEWARD, Neb. – The Concordia University baseball program could not have asked for a more perfect night or a better fan turnout while hosting the GPAC tournament championship game for the first time ever. A sloppy Concordia defensive effort and a game-defining three-run homer by Midland's Conlon McKenzie made the difference at Plum Creek Park on Tuesday night. The visiting Warriors won, 5-3.
For third-year head coach Ryan Dupic's squad, it was just its second loss in 12 games. The Bulldogs will enter national tournament play with an overall mark of 33-20.
"Obviously we knew that (we already had a national tournament bid)," Dupic said. "That's always in the back of your mind. We were trying to win. Every time you play, you want to compete and win. We just fell a little bit short tonight."
The defensive lapses were unlike the Concordia team that had gotten on a roll and moved past Midland (40-18) by playing the best baseball in the conference down the stretch. There has been no equal in the GPAC to the Bulldog pitching staff over the last few weeks. It did a solid job on Tuesday after starter Tanner Wauhob surrendered three hits and two runs in the opening inning. Other than the home run allowed to McKenzie, ace reliever Desmond Pineda was again virtually lights out. He tossed the final 4.1 innings.
The Bulldogs actually outhit Midland, 12-7. However, all 12 hits were singles and only two came with runners in scoring position. Warrior relief pitchers got big third outs on strikeouts that ended the seventh and eighth innings with two runners on base.
Christian Montero (3-for-5) and Jason Galeano (3-for-3, walk) routinely squared up the baseball off a Midland staff that went five pitchers deep on Tuesday. Shea Bennett provided the best work of any Warrior hurler. He tossed 3.2 innings of shutout ball and earned the victory.
There really wasn't much that separated Concordia from earning another trophy. The defensive miscues and lack of timely hitting doomed it.
"Minus our defense, we played a good baseball game," Dupic said. "We had a lot of hits off some good pitchers. I thought we hit the ball well and pitched well. We were one pitch away from holding them to two runs the whole game. We just put ourselves in such tough situations defensively today and it made us throw more high stress pitches."
McKenzie was the ultra-villain in this game. He drove in all five runs, including two that came around in the first inning on his double to the right center gap. Dupic even chose to intentionally walk McKenzie in the seventh in a move that paid off. Pineda then got Tanner Bos to tap out weakly.
Now the Bulldogs wait for Thursday's announcement from the NAIA on opening round assignments for the national championship. The NAIA will reveal the opening round details via a live selection show at 3 p.m. CT. It can be viewed by accessing the NAIA's YouTube channel. For further information on the national tournament, click HERE.
It's time to reset and get amped for the national tournament. The 2017 Bulldogs can take pride in accomplishing feats that no one has ever seen done by the program.
"I'm really excited for Thursday and for them to get to experience something like that," Dupic said. "It will be a natural way to turn the page. As soon as you see your name up there and you're with your teammates, there will be a lot of excitement. I'm very much looking forward to it."