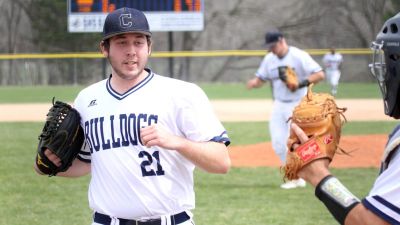 SEWARD, Neb. – Every game from here on out will carry significant meaning for the Concordia University baseball team. Not since 1986 has the program captured a conference championship. Halfway through the GPAC schedule, the Bulldogs are alone in first place. However, several teams are breathing down their necks, including the Hastings opponent they will face on Thursday and Saturday.
Weekend schedule
Thursday, April 13 – at Hastings, 5 p.m. CT DH
Saturday, April 15 – vs. Hastings, 1 p.m. CT DH
Thursday's games will be streamed live via the Hastings Stretch Internet portal. Then on Saturday, the Concordia Sports Network will provide coverage.
Third-year head coach Ryan Dupic's squad has won 10 of its last 11 conference games with the only loss during that stretch being an 8-7, 13-inning defeat at the hands of Dordt on Tuesday. Over the last 11 GPAC games, the Bulldogs (21-14, 10-4 GPAC) have outscored their opponents by a combined total of 92-35. Concordia has the conference's most prolific run scoring team with an average of 7.5 runs per game.
Senior third baseman Casey Berg just keeps on raking. He went 4-for-8 with a triple, a home run and four RBI in Tuesday's twin bill. He tops the team in most major offensive categories, including batting average (.385), runs (41), hits (50), home runs (7), total bases (83), on-base percentage (.474) and slugging percentage (.638). In the middle of the lineup, right fielder Christian Montero has been surging in the power department. He hammered four home runs in last week's four-game sweep of Doane.
The pitching staff has gotten a huge boost from freshmen. Rookie left-hander Jason Munsch has been close to unhittable, limiting opposing batters to a .150 average. In his past two outings, Munsch has fired 13 shutout innings, during which he's allowed only three hits and 15 strikeouts. Fellow freshman Wade Council also turned in a shutout in his most recent outing. He tossed a seven-inning complete game in a five-hitter at Doane.
Hastings (19-15, 8-6 GPAC) currently sits in fourth place in the league standings, two games behind the Bulldogs. The Broncos are coming off a four-game split in their weekend series with Mount Marty. Hastings is the league's top defensive team in terms of fielding percentage. The Broncos are not a particularly powerful team (.414 slugging), but players like Reed Stone (.358 BA) and Brandon Utrup (.351) are rock steady.
Saturday's home doubleheader will be the start of eight-straight GPAC home games. Concordia is also slated to host Midland (April 18) and Briar Cliff (April 22-23) next week as part of the stretch run of the regular season.