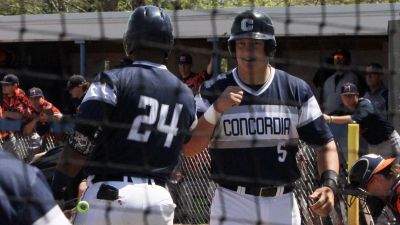 SEWARD, Neb. – A total of six members of head coach Ryan Dupic's fourth-place Concordia University baseball team garnered all-conference recognition from the GPAC on Wednesday. Middle-of-the-order sluggers Kaleb Geiger and Christian Montero received the highest honors with both representing the Bulldogs on the conference's first team. In addition, Alex Alstott, Casey Berg, Mark Harris and Josh Prater each were named honorable mention selections. Meanwhile, junior Jake Adams received placement on the GPAC's Gold Glove team as the left fielder.
Geiger, a sophomore from Sedalia, Colo., moved from third base as a freshman to third base in 2016 and enjoyed one of the best seasons at the plate by a Bulldog in program history. He led Concordia in batting average (.347), runs scored (48), doubles (16), RBIs (50), slugging percentage (.605) and on-base percentage (.448). His 48 runs scored equaled a team single-season record. In addition, he came up just a single RBI shy of the program standard.
Right behind Geiger in the order, Montero feasted out of the cleanup spot with a team high nine home runs on the year. The junior from Santo Domingo, Dominican Republic, hit .326 with, 15 doubles, 50 RBIs (tied with Geiger from most on the team), a .415 on-base percentage and .584 slugging percentage. He racked up a team best 104 total bases. On the season's final day at Midland, Montero drilled a three-run homer and then a two-run blast.
Adams handled 88 chances with just one error while playing 52 games in the outfield this season. The native of Mason City, Iowa, also hit four home runs and batted .275 with four home runs. He delivered the game-winning grand slam in the GPAC tournament win over Midland on May 6.
Alstott, a 2015 first team all-conference choice, finished his senior season strong. Despite a slow start, the native of Fort Dodge, Iowa, still posted a .931 OPS on the year. He batted .261 with 13 doubles, a team high 29 walks, seven home runs and 20 RBIs. His 44 runs were second most on the team.
Berg, a junior from Manning, Iowa, provided steady play at third base. Over 48 games in 2016, he batted .316 with three doubles, four triples, 20 RBIs and a .427 on-base percentage. He also was successful on 10 of 12 stolen base attempts.
After beginning the year in the bullpen, Harris assumed the role of staff ace while logging a team high 57.2 innings. He concluded his senior year with a 4-4 record and 3.43 ERA over 12 appearances. The Tucson, Ariz., native allowed 59 hits and 30 walks while striking out a Concordia best 50 hitters in leading the way for a program record 295 strikeouts as a staff.
Prater starred down the stretch as both a starter and reliever. He ended his junior season with a streak of 20.2-straight scoreless innings. The lefty went 3-0 with a team low 2.87 ERA over 37.2 innings. He earned wins in each of his final two appearances. In both instances, Prater fired more than seven frames without giving up a run. This is the first career all-conference honor for the Colorado Springs native.
The 2016 Bulldog squad broke numerous single-season records, setting new standards for wins (28), GPAC tournament wins (two), runs scored (395), home runs (38) and pitcher strikeouts (295). By way of a fourth-place tie in the regular season, Concordia also recorded its highest-ever finish in the GPAC standings.