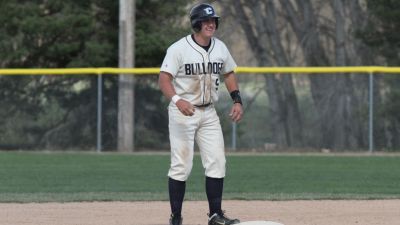 ORANGE CITY, Iowa – The Concordia baseball team split with Northwestern College on Saturday afternoon. The Bulldogs won the second game of the day, 12-6 after being defeated 15-1 in the first half of the double-header.
The Bulldogs are now 21-18 overall and 7-3 in the GPAC. Northwestern moves to 19-19 and 8-4 in the league.
Head coach Ryan Dupic said, "They jumped out on us really good the first game…Northwestern did a nice job of being ready to play today. Their pitchers also did a good job of keeping us off balance. I'm very proud of the way our guys battled the second game. We had some very key at bats in big situations."
The 12-6 victory in the second game of the day was aided by four Bulldog home runs, including a grand slam from Kaleb Geiger. Geiger came to the plate with bases loaded and swung at the first pitch offered to him. The ball went sailing over the left field fence. Alex Alstott had two long shots in the tilt, a two-run homer in the third and a solo shot in the sixth. Christian Meza followed Alstott in the sixth with another homerun, his first of his career.
"Alstott hit a big two-run home run. We got a couple doubles from Jacob Adams and Drew Woods and then that big grand slam from Geiger really gave us the momentum that we needed. We did a good job offensively. We got good swings off and got into some good counts and really took advantage of that," Dupic said.
Starting on the mound was Cole Jackson who pitched five innings. Josh Prater finished the final four innings and struck out three Red Raiders, allowing no runs.
Dupic said, "I was pretty proud of the pitchers in that game also. Cole Jackson did a nice job and Josh Prater really did a nice job not letting up any runs in the last four innings."
The first contest of the double-header went in favor of the Red Raiders, 15-1. The lone Bulldog run came in the sixth inning. Taylor Dudley led off the inning with a double down the right field line. He then advanced to third on a passed ball and scored on a wild pitch. The 'Dogs recorded four hits over the tilt.
Starting pitcher, Mark Harris faced eight batters before turning over the pitching duties to John Mellen. Mellen threw for 2.2 innings and struck out two batters. Casey Hall closed out the game, pitching the final three innings.
The Concordia baseball team will be facing Morningside College (31-10, 7-3 GPAC) on Sunday for a double-header. First pitch is slated for 1 p.m. from Sioux City, Iowa.