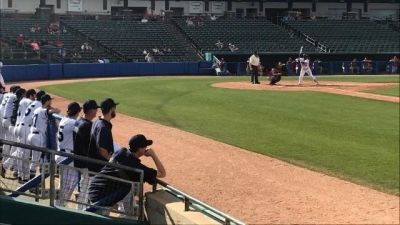 TUCSON, Ariz. – First baseman Kaleb Geiger slugged two more homers and the Concordia University baseball team got two complete game pitching performances in a doubleheader wipe out of Grand View University (Iowa) on Saturday evening. In their debut at the 2017 Tucson Invitational, the Bulldogs topped the Vikings by scores of 12-6 and 5-1.
Third-year head coach Ryan Dupic's squad has evened up its overall record at 3-3. Concordia is scheduled to play eight more times before leaving The Grand Canyon State.
The Bulldogs came out swinging in Tucson while also having a field day stealing bases. Center fielder Jake Adams collected three hits and Tyler Nelson added two more in the game 1 outburst that included one of Geiger's two homers on the day. In game 2, Casey Berg broke a 1-1 tie in the seventh with an RBI single. Geiger added the insurance with another big fly.
The pitching was also stellar. Freshman Nick Little, making his second career start, allowed only two earned runs in his seven-inning complete game in the opening contest. Senior lefty Josh Prater then tossed every inning of game 2. Said Dupic, "It was a good day. We got two complete games and got to play in the stadium."
A significant test awaits on Sunday when the Bulldogs challenge 16th-ranked University of Jamestown (N.D.) (10-1) in another twin bill. First pitch is set for 9 a.m. MT / 10 a.m. CT.