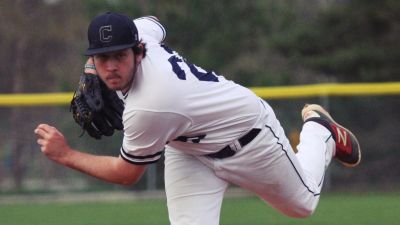 SEWARD, Neb. – In a showdown between the top two teams in the GPAC standings, the Concordia University baseball team held its ground with a doubleheader split with visiting Midland at Plum Creek Park on Tuesday evening. The Bulldogs rode the left hand of Jason Munsch while rebounding from a 6-1 game 1 loss. Concordia took game 2 decisively, 10-0.
Third-year head coach Ryan Dupic's squad remains squarely in the picture in the race for a GPAC championship. The Bulldogs (23-16, 12-6 GPAC) are tied with the first-place Warriors (32-13, 14-6 GPAC) in the loss column.
"It was a day of mistakes," Dupic said. "We made them the first game and they made them the second. I thought we had some good takes in the first game on a couple borderline pitches. That led to some walks and obviously Jason did a really nice job, too. It was a very nice bounce back win for us, no doubt about it."
Munsch is on a tear. He's now thrown 19 innings without allowing a single run over his last three starts on the mound. On Tuesday, he used a heavy diet of fastballs to carve up a potent Midland lineup that managed a meager three hits in six innings. Munsch, who came into action limiting opponents to a .150 batting average, struck out nine in yet another gem tossed by the rookie from Campbell, Calif.
"It felt great. I actually pitched against Midland the last time we were there and I had a little bit of a rough start," Munsch said. "So it was good to be able to come back out and give it my all and really show what I can do."
All Concordia really had to do in game 2 was watch Munsch go to work and then take advantage of a multitude of Warrior miscues. Midland hurler Dillon Cotner walked four-consecutive hitters in a top of the first inning that featured just one Bulldog hit. Two more free passes and a hit batter helped Concordia push across two more in the second. A gift came in the fourth when an error directly led to a sixth Bulldog run.
Concordia couldn't quite solve Midland righty Torrey Escamilla, who bumped his season record to 9-0. Escamilla fired a seven-inning complete game. He gave up one run on six hits and a walk while striking out five.
It was another solid night at the top of the lineup for Casey Berg, who reached base in five of eight plate appearances. He went 2-for-3 with a pair of runs scored in game 2. Kaleb Geiger got a confidence boost in the latter part of a game 2, coming through with a three-run double to right.
Midland enjoyed better success this time around against freshman Wade Council, who fired a shutout in his first career appearance against the Warriors. Council was lifted after four innings in game 1. He allowed five runs (three earned) on nine hits and two walks. Midland's Chris Foster went 3-for-4 with a pair of RBIs in a winning effort.
A string of eight-straight home games continues this weekend for the Bulldogs. As part of a four-game series, Concordia will host doubleheaders with Briar Cliff (14-28, 7-13 GPAC) at 1 p.m. CT on both Saturday and Sunday. Saturday will be senior day at Plum Creek Park. The 2017 roster includes 15 seniors. Five of which are regulars in the lineup while Josh Prater is the headliner among pitchers.
A lot will be at stake for the Bulldogs.
"We're about as healthy as we can be this time of year," Dupic said. "We've tried to work hard to make sure our guys stay healthy. We've kept our starters as starters and our relievers as relievers. We've thrown relievers twice in the same day extremely rarely and thrown them back-to-back days very rarely all year so when we get to this point in the season we're prepared to have success."