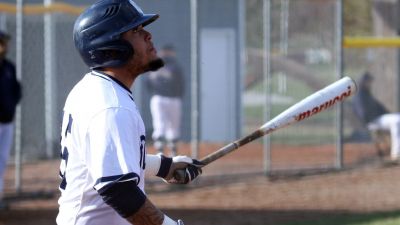 SEWARD, Neb. – For the first time since the 2005 season, the Concordia baseball program has put together a five-game win streak within conference play. Fresh off a 4-0 weekend the Bulldogs look ahead to this week's slate, which includes a dip outside the league and then a four-game series Saturday and Sunday against Doane.
This week's schedule
Tuesday, April 4 – at York College (20-16), 5:30 p.m. (1x9)
Saturday, April 8 – vs. Doane (15-14, 6-2), 1 p.m. (DH)
Sunday, April 9 – at Doane (15-14, 6-2), 1 p.m. (DH)
Third-year head coach Ryan Dupic's squad effectively bounced back from an 0-3 start to conference play. Over the active five-game win streak, Concordia has averaged 8.8 runs per game. The Bulldogs continue to rank as one of the most prolific offenses in the GPAC. Among conference teams, Concordia ranks first in runs per game (7.5), second in hits per game (9.5), second in batting average (.306), second in slugging percentage (.469) and second in stolen bases per game (1.4).
The catalyst behind Concordia's offensive success continues to tear it up at the top of the lineup. Senior third baseman Casey Berg put together three-straight games with three hits last week. In the doubleheader sweep at Mount Marty, the Manning, Iowa, native went 6-for-10 with three runs, four RBIs and two home runs. In sum, Berg went 13-for-30 with 13 runs scored, two doubles, two home runs, seven RBIs and two steals over last week's eight games. On the season, Berg is hitting .366 with six home runs and 20 RBIs. He sports an on-base percentage of .458 and is slugging .594. Berg ranks third in the conference in hits per game (1.37).
The Bulldogs have also gotten some quality work from several pitchers. Both of the team's freshman left-handed starters tossed a shutout last week. In the second game at Midland, rookie Wade Council struck out 10 Warriors and allowed only four hits in a seven-inning complete game shutout. Five days later, Jason Munsch surrendered just one hit in another seven-inning blanking, this time at Morningside. Council and Munsch are a combined 7-1 and both have ERAs of 3.30 or lower.
Several Bulldog hitters sport batting averages above .300, including Christian Meza (.377), Berg (.366), Tyler Nelson (.348), Jake Adams (.325), Jason Galeano (.313) and Ryan Fesmire (.300). In addition, first baseman Kaleb Geiger has heated up and is batting .283 with five home runs and 28 RBIs. His slugging percentage of .556 ranks second on the team to Berg. Also a middle-of-the-order hitter, Christian Montero tops the Bulldogs with 14 doubles.
York has been a player on the national scene under the direction of head coach Brian Walth. The Panthers were champions of the Kansas Collegiate Athletic Conference last season and were ranked 13th in the 2017 NAIA preseason coaches' poll. Nick Carney is off to a torrid start at the plate. The York first baseman is batting .414 with 10 home runs, 39 RBI and a .798 slugging percentage.
Doane has been an early surprise after being picked sixth in the GPAC preseason coaches' poll. The Tigers are 6-2 in the GPAC despite averaging more than two errors per game (worst in the conference). They have picked up the slack with an offense that ranks No. 1 in the conference in hits per game (9.7) and second in runs per game (6.4). Shortstop Tommy Anderson leads Doane with a .392 batting average. He also owns a .482 on-base percentage and .581 slugging percentage.
The longest win streak during Dupic's tenure was a 10-game run in March of 2015. Concordia also strung together six wins in a row at one point in 2016.
The Bulldogs are also scheduled to play three conference doubleheaders next week. In a makeup twin bill, Concordia is set to host Dordt at 3 p.m. CT on April 11.