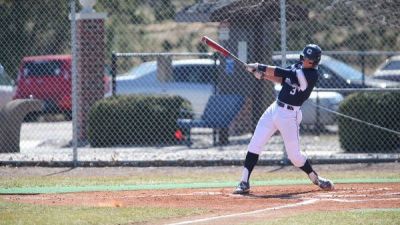 First GPAC road doubleheader results in split with Mount Marty
YANKTON, S.D. – Another freshman left-handed pitcher put forth a solid effort on the mound and the Concordia University baseball team earned a road split at Mount Marty in Sunday action in Yankton, S.D. Rookie hurler Taylor Bickel tossed his second-straight complete game to help lead a 7-4 game 1 victory. The Lancers won the capper, 10-3.
After the opening weekend of conference action, first-year head coach Ryan Dupic's squad owns records of 16-8 overall and 2-2 in GPAC play. Concordia has already equaled its season win total from the 2014 campaign.
"I have to credit Bickel for his work in the first game," Dupic said. "He really battled. He was on a short leash but he got hot and kept it rolling. He did a great job.
"And our hitters had really good at bats in the first game."
The Lancers got all four of their game 1 runs in the second inning when they tagged Bickel for five hits. The southpaw from Surprise, Ariz., scattered 12 hits over his seven-inning complete game while tossing up doughnuts in each of his final five frames. He ran his record to 4-1 to go along with a 4.18 ERA.
The heart of the Concordia lineup generated the bulk of the offense in the victory. Dupic's Nos. 3 through 6 hitters each collected two hits apiece. They helped the Bulldogs take the lead for good in the top of the fifth when Zach Cambier singled in Taylor Dudley (one-out double) and Ryan Fesmire scored Cambier on a ground out. Dudley also doubled and scored in the seventh as Concordia provided Bickel a pair of insurance tallies.
The Bulldogs piled up 20 hits on the day compared to 22 by Mount Marty (18-11, 2-2 GPAC). Kaleb Geiger, the Concordia's No. 3 hitter, went 3-for-8 on the day and has at least one hit in 20 of his 23 games played.
Just as it did in the opening contest, Concordia dented the scoreboard first in game 2. Taylor Bigandt connected on a solo shot (second homer of the season) with one out in the top of the second. Mount Marty then scored eight-straight runs, including six runs on five hits and two errors in the bottom of the third.
Bulldog game 2 starting pitcher Cade Moring was pulled with one out in the third. He was charged with five earned runs on seven hits and three walks. John-Jay Silva, James Hall and AJ Peterson covered the final 5.2 innings in relief.
Dupic is preaching greater consistency as the Bulldogs move forward in the conference schedule.
"We played four games this weekend and gave ourselves the opportunity to win two of them," Dupic said. "We didn't give ourselves a chance in the other two and we lost them. We need to play with more consistency and not beat ourselves. If we do that we'll have a chance to have a nice season."
Standouts for Mount Marty included game 2 pitcher Brandon Nickolite, who went 8.1 innings and allowed three earned runs in a winning effort. Left fielder Derek Blumenstock collected two hits in both games and first baseman Colin Peterson drove in three runs in the game 2 Lancer win.
The Bulldogs break from the GPAC slate on Tuesday when they travel to play National Christian College Athletic Association member Manhattan Christian College (0-19). The doubleheader is set to begin at 1 p.m. from Manhattan, Kan.