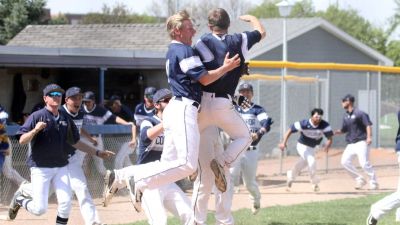 SEWARD, Neb. – The final week of the regular season has arrived for a Concordia University baseball team that has lived at or near the top of the GPAC standings in 2017. Despite splitting last week's six home games, the Bulldogs remain in control of their own destiny for at least a share of the conference regular-season title. Third-year head coach Ryan Dupic's squad is one game back of first-place Midland (16-8 GPAC), but tied in the loss column.
This week's schedule
Tuesday, April 25 – vs. Hastings (24-18, 13-9 GPAC), 5 p.m.
Friday, April 28 – at Dakota Wesleyan (16-24, 11-11 GPAC), 5 p.m.
Saturday, April 29 – at Dakota Wesleyan (16-24, 11-11 GPAC), 1 p.m.
In the midst of the winningest three-year period in school history, Concordia (25-18, 14-8 GPAC) needs four more victories for an overall school single-season record and two more wins to break a program standard for conference triumphs in a campaign. The Bulldogs remain in the hunt for their first conference championship since 1986.
While Concordia ranks second in the GPAC in runs per game (6.8), it's the pitching staff that has been most impressive lately. Over the past five games, the Bulldogs have allowed a total of 11 runs. Three starting hurlers possess ERAs south of 3.00: Josh Prater (4-3, 2.33 ERA), Jason Munsch (5-1, 2.36 ERA) and Wade Council (5-1, 2.59 ERA). Munsch has not allowed a run in 20 innings over his last three starts. The reliable senior lefty Prater has surrendered more than three earned runs only once in nine starts this season.
Offensively, the Bulldogs are hoping to catch fire late in the season. Briar Cliff kept Concordia in check for much of last week's series. One of the highlights was Christian Montero's 3-for-3, two-double performance that allowed him to surpass the school's single-season record for doubles (18). The team's most consistent hitter, Casey Berg, is knocking on the door of the program runs scored record (two short with 46 runs in 2017). Berg is hitting .364 with an impressive .470 on-base percentage.
Hastings has gone almost exclusively with a four-man pitching rotation this season. All four guys were used over the weekend, including Will Frei, who has been on a recent tear. The Broncos are coming off a four-game split with Midland. The Bulldogs and Broncos split a twin bill in Hastings on April 13.
Concordia has yet to see Dakota Wesleyan this season. The Tigers stopped a six-game losing streak on Sunday, taking the final game of a four-game set at Morningside. Dakota Wesleyan has had its struggles both offensively (.267 batting average) and on the mound (7.18 ERA). Its leading hitter is Tramane Moore (.343 average, .438 on base).
Seeding for the GPAC tournament will be finalized at the conclusion of the regular season. The regular-season champion earns an automatic bid to the national tournament. The top two seeds will host four-team pods of the conference postseason.