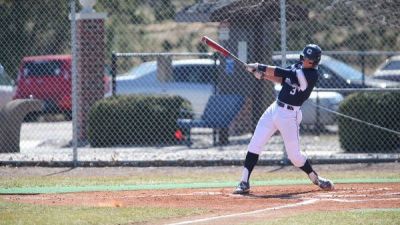 Fesmire two-run single completes 12-inning, come-from-behind win
OMAHA, Neb. – A two-out, two-run single by catcher Ryan Fesmire in the top of the 12th propelled the Concordia University baseball team to a 6-4 victory over Grace University late on Wednesday night. The Bulldogs rallied back from a 4-0 deficit after seven innings in a contest that was moved to Millard North High School in Omaha, Neb.
First-year head coach Ryan Dupic's squad is now 17-6 in nonconference play and 21-10 overall.
The fine work of five different Concordia relief pitchers helped keep the game close. Sophomore right-hander Mark Harris threw 3.2 innings out of the bullpen and picked up his third win of the season. Edwin Izumigawa then worked around a two-out single in the bottom of the 12th on the way to his fourth save.
The Bulldogs did all of their 12th-inning damage with two outs. Back-to-back singles by Taylor Bigandt and Zach Cambier and a wild pitch set the stage for Fesmire, whose base hit to center knocked in both baserunners.
In a game that featured a combined 20 walks, Concordia took advantage of seven bases on balls issued by Royal pitchers during a four-run top of the eighth. The Bulldogs forced in runs with bases-loaded walks by Taylor Dudley, Bigandt and Daniel Wilkerson. Concordia knotted the score without the benefit of a single eighth-inning hit.
The Grace bullpen failed to piggy back off the work of starting pitcher Agustin Lopez, who struck out 13 Bulldog hitters through 7.1 innings. Lopez was pulled from the game after walking two of the first three batters he faced in the eighth.
Sophomore lefty Josh Prater started on the mound for Concordia. He allowed five walks and three hits, but limited the Royals to a single run in his three innings. Dupic then used Wyatt Weller, John-Jay Silva, AJ Peterson, Harris and Izumigawa (in that order) out of the bullpen.
Fesmire (2-for-6, two RBIs) was one of three Bulldogs with two hits each. The others were shortstop Casey Berg (2-for-3) and third baseman Kaleb Geiger (2-for-4, run).
The Bulldogs hit the road for four games within the GPAC this weekend. Next up is a doubleheader with Briar Cliff (21-13-1, 7-1 GPAC) at 1 p.m. in Sioux City, Iowa, on Saturday. A day later Concordia will take on Dakota Wesleyan (11-17, 1-7 GPAC) at 1 p.m. in Mitchell, S.D.