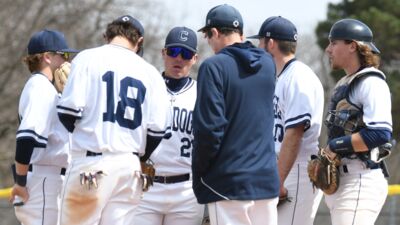 On the heels of back-to-back 40-win seasons, the Concordia University Baseball program reconvened this fall with a familiar approach that has served the Bulldogs well during the tenure of ninth-year head coach Ryan Dupic. Concordia understands its not the underdog it used to be. The Bulldogs landed at No. 21 in the 2023 NAIA preseason coaches' poll released on Nov. 2. At the same time, Dupic has continuously worked to ensure that the atmosphere within the program remains one focused on the process of what it takes to be great.
The fall practice season is catered to suit the individual needs of players. Some Bulldogs played a lot during the summer and some may have geared their pursuits more towards an internship or career. Dupic and his staff, including lead assistant Caleb Lang, take those dynamics into consideration when structuring the fall. The only real negative over the past couple months was a rash of minor injuries.
Says Dupic, "Continuous improvement is a part of who we are, so we want to keep making progress and have that be a key piece. The thing that stood out to me this offseason is that we have a whole bunch of guys in different positions, whether that be health wise, or some guys having played a lot this summer and some that didn't play any games. It's a very different situation to evaluate each guy. You have to look at how many innings they threw in the spring and summer and decide what that means for the fall. Where do we need breaks and where to we need to keep pushing? That's what makes it complicated. I feel pretty good that our guys are focused and want to keep making progress. As long as that continues to be a daily part of what we do, we're in pretty good shape."
There's certainly a culture in place that fosters intrinsic motivation. The atmosphere has helped make stars out of current Bulldog position players like Jay Adams, Jesse Garcia, Joey Grabanski and Jaidan Quinn, to name a few. There's a track record of success already in place for a slugging lineup that broke program records last season for runs scored (516) and home runs (113). Dupic already knows what he's likely to get from one of the NAIA's most potent offensive lineups. Even more encouraging, the pitching staff is in a better place than it was this time a year ago.
Dupic saw signs of that progress during the fall period, which included live intrasquad scrimmaging. Returning first team All-GPAC pitchers Alex Johnson and Caden Johnson have added velocity while honing their abilities. The Nos. 3 and 4 starters, Christian Gutierrez and Caden Bugarske, are also back in the fold for a pitching staff that will definitely get a boost from a group of transfers.
"At this point last year, we were trying to replace three out of four starters," Dupic said. "We literally were kind of starting from scratch with our starting rotation. We were trying to find that piece throughout the year and thankfully we had some guys step up. Alex Johnson did a great job, Caden Johnson did a great job and Christian Gutierrez and Caden Bugarske solidified the rotation. To have all those guys back and an influx of more talented guys is very exciting. There's no doubt we're very much farther ahead of where we were with our pitching staff at this time a year ago, in terms of depth and having a chance to have some frontline guys. The key is to keep fighting in the margins and find ways to improve those guys."
While select players were slowed this fall by injury, catcher Ben Berg has operated at full strength as he looks ready to have a big fifth season of collegiate baseball. Berg's 2022 season was hampered a bit by an injury, but he's someone who stood out this fall in the eyes of Dupic. His veteran presence behind the plate should only be a positive for the pitching staff. Other returning position players Dupic mentioned for their improvement this fall were the slugging Garcia, outfielder Caleb Lemon and shortstop Ty Nekoliczak.
In effort to lower the team ERA of 4.47 from last season, Dupic and his staff focused heavily on pitchers when it came to the recruiting class, which includes a strong crew of transfers. Throughout the fall, Dupic has gotten a close look at new arrivals such as Blake Benson (University of the Ozarks), Frankie Cresta (Tennessee Tech), Kellen Ingram (Shawnee State University) and Maverick Wylder (Southeast CC). Those transfers have come from NCAA Division I and III, NAIA and junior college levels and are already battle tested.
"Our core is still going to be in our ability to hit, get on base and drive the baseball, but finding ways to win the 5-3 games is going to be really important," Dupic said. "We have to continue to take steps defensively. I thought we did last year for the most part. We need that frontline pitching. I need two or three guys that just take the ball and you feel like you're going to win every time they pitch. If we want to take that next step as a program, that's as big as anything for us."
There will be plenty of games where Concordia has some margin for error. The Bulldogs bring back three players who connected for at least 18 homers in 2022: Quinn (19), Adams (18) and Grabanski (18). Not only that, Garcia has gone deep 38 times in his career and could challenge many of the career records Keaton Candor broke throughout his five seasons at Concordia. Speaking of Candor, he's the most significant bat the Bulldogs must replace. In other words, the battle for the third outfield spot alongside Alec Blakestad and Grabanski is underway.
The collection of offensive talent has been so overwhelming that Concordia has earned more respect nationally (although it was snubbed from the NAIA postseason top 25 despite being one win away from reaching the NAIA World Series). There are still new things out there for this program to accomplish, and it won't take anything for granted. The race in the GPAC will be a heated one as Doane, Jamestown and others return plenty of talent. If the Bulldogs get back to the national stage, they know they can win there.
It's just too far out at this point to think about what can happen in May of 2023. Concordia has to put the work in now in order to be where it wants to be late in the spring.
"I hope our focus is on trying to grow and get better and stay in the present tense in terms of what we can do to make progress," Dupic said. "We're kind of in a fun spot. We're obviously starting to get a little more national notoriety. That's certainly a testament to the players that have come here before, the seasons we've had and the coaches who've invested. In some ways we might be one of the favorites in our conference. We're getting some acknowledgement on the national level, but I still don't think we're someone people look at as a legitimate national championship contender or anything like that. We still have a little bit of an underdog role in some scopes of the national landscape and we're maybe a little bit more of a favorite locally and regionally. It's kind of fun. We get to play both components a little bit."
The 2023 Concordia Baseball schedule can be found HERE.