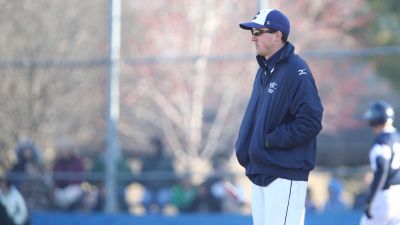 The 2015 season provided head baseball coach Ryan Dupic and his program with a base of knowledge to work off of heading into the 2015-16 academic year. Last season's Bulldogs broke a program record with 26 wins, but that was viewed simply as a starting point in the building process. Even in year two under Dupic, there will be periods of adjustment.
However, the former top assistant coach at Buena Vista University believes that the influx of more than 30 new student-athletes into the program will enhance the overall talent level. Dupic got long looks at his retooled roster over a five-week timeframe this fall.
"I feel like we have more depth," Dupic said. "Largely through recruiting and player development we're starting to establish more depth in the areas that we need to, especially on the mound. We have a lot more competition for spots. Sitting here right now I feel like I know about four guys who will be in the everyday lineup. I don't know who the other ones are. I know three or four guys that will pitch, but I have no idea who's going to pitch when."
The five-week fall season consisted mostly of intrasquad games with the exception of a pair of exhibition games with Southeast Community College. Dupic says each healthy player had the opportunity to appear in eight-to-10 intrasquad contests. He prefers a fall environment in which specific game situations can be controlled to simulate the pressure of the real thing.
While there are plenty of new faces inside the program, the Bulldogs return starting positional players in first team all-conference center fielder Alex Alstott, outfielder Taylor Dudley, infielders Casey Berg, Alex Cargin and Kaleb Geiger and catcher Ryan Fesmire. The pitching staff welcomes back starters in Taylor Bickel and Neil Ryan and reliever Mark Harris.
Alstott established himself as one of the league's best players in 2015. He topped the GPAC in both on-base percentage and slugging percentage and broke a program single-season record for triples (13). Now he'll be counted upon as someone younger players can look up to.
"We've really been trying to challenge him in regards to leadership," Dupic said. "I thought his fall from a production standpoint was really similar to last fall. He's a little bit of a slow starter, but by the end he was really good. We've been challenging him to make sure he provides that leadership. I think initially it was something he was getting used to. Lately he's been better and better."
Alstott is almost assured of being Concordia's center fielder again in 2016, but several positions are up for grabs. Dupic has also tried shuffling the deck by moving Geiger from first to third, Berg from shortstop to third and by giving Tyler Nelson some outfield opportunities. The fall has proven to be the perfect time for tinkering. Geiger, who hit .317 as a freshman, has lots of room to grow as a hitter.
"We really did a lot evaluation at the end of last season about how things were offensively and how things were defensively and how we can piece it together better when you have new guys coming in," Dupic said. "Kaleb Geiger is getting most of his repetitions at first base now. We'd really love to see him handle that spot and be a productive offensive player. We feel like it can free him up to really, really good offensively."
On the mound, Ryan has made strides heading into his sophomore year. One of the team's most powerful arms, the right-hander from Grand Junction, Colo., led last season's staff with a 2.76 ERA over 45.2 innings. Dupic says Ryan dominated in two of his three fall outings. Meanwhile, the left-handed Bickel has continued to excel by pounding the strike zone. A control artist, Bickel walked only 14 hitters in 53.2 innings in his first collegiate season.
It will take Dupic and his staff, including top assistant Jake Waddle, analysis through the winter to determine the right mix of players to put on the field, but the second-year head coach is certain that Bickel and Ryan will be joined on the mound by an army of new hurlers. Dupic has been most pleased with the attitude of his first full recruiting class since arriving at Concordia.
"I just love the class," Dupic said. "I think they're really good kids. They fit with what we want our culture to be. They're hard workers and they're really passionate about getting better. I think you'll see newcomers play. Offensively, off the top of my head, there's two or three guys that will play for sure. With pitching I think you're going to see a lot of new arms. There are probably anywhere from six-to-10 guys who will pitch for us that weren't part of our roster last year. I think you're going to see a group of guys who are very passionate, work hard and love to play."
Nebraska winter months can be brutally cold, but Dupic does not believe weather will slow down his program. The Bulldogs will use the annex, an indoor facility located on the south side of campus, to fine-tune mechanics and prepare for a season that officially gets started on Feb. 13 at Bethany College. Concordia will really start ramping up for the season around mid-November.
As far as the season outlook is concerned, it's far too early to put a win expectation on Dupic's group. The focus continues to be placed on the process. Says Dupic, "I think the framework we're laying in terms of expectations is to help our individual units be the best in the league at their specific spots."