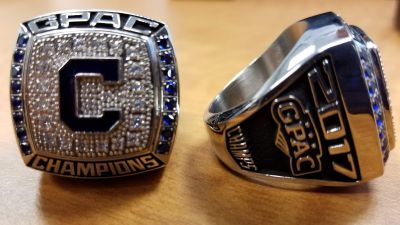 In some ways, the dynamics have reversed in terms of the makeup of the 2018 Concordia University baseball roster. The same winning culture remains in place after a 2017 GPAC regular-season title that ended a program drought of 31 years without a championship. What does not remain are some of the faces that helped make it possible.
When the doors opened for the fall semester, head coach Ryan Dupic could no longer scribble projected lineups with names like Jake Adams, Casey Berg, Jason Galeano, Christian Montero or Tyler Nelson.
"Last year we had a pretty good idea who was going to start for us once fall ball was over," Dupic said. "We had so many older guys. That's just not the case this year. We have a lot of competition for positions. Coaches always say that, but we really truly do. We have some older guys competing for spots and some younger guys that really pushed them and were good this fall. This was a chance to see all of those guys as much as possible."
This fall Dupic and assistant coach Bryce Berg shortened the length of the fall season. The team got after it intensely for about four weeks before ending organized practice. Dupic has always preferred using the fall for intrasquad competition, allowing him to manipulate the game situations as needed to see how guys respond to those events. Keeping everything in-house also improves the process of closely evaluating pitchers. Depending upon the arm, some are on completely different schedules at this point of the year.
One question mark Concordia is trying to answer centers upon how it handles success and some of the pats on the back it got during a thrilling 2017 campaign that came as somewhat of a surprise to outsiders.
"It's a real challenge for the program and the players," Dupic said. "Everyone played a role in that championship team. You fear that guys coming into the program feel like they're waking up like they're on second base and hit a double already. It's a lot easier, in my opinion, to respond to adversity and come back from challenges. I think people have natural inclinations to be complacent when things go well. We had to discuss that with our program, what our vision is and where we want to head from here."
The pitching staff appears to be light years ahead of where it was this time one year ago. On paper, pitching will be a major strength despite being an unknown prior to this past spring. Five freshmen were used extensively last season: Wade Council (3.83 ERA, 51.2 IP), Jake Fosgett (5.52 ERA, 29.1 IP), Nick Little (4.37 ERA, 70 IP), Jason Munsch (3.07 ERA, 55.2 IP) and Desmond Pineda (2.76 ERA, 42.1 IP). Now a junior, Tanner Wauhob (3.03 ERA, 29.2 IP) also played a significant role.
Dupic has seen strides this fall from a group that was pretty solid to begin with. This may end up being the deepest group of hurlers ever seen at Concordia.
"A year ago at this time we didn't have very many answers," Dupic said. "They are so much better right now than they were a year ago. It's really encouraging. All of those guys have made such great progress from a year ago to now. We don't want them to have a good freshman season and think they have everything figured out. We want to raise their level. Those guys have looked really good this fall and I'm excited to see where they will be four, five and six months from now."
The most recognizable returning starters from a position player perspective are the likes of outfielder/pitcher Council (.283 AVG, .395 OBP), first baseman Kaleb Geiger (.523 SLG, 6 HR, 45 RBI), second baseman Christian Meza (14 doubles, 38 RBI) and shortstop Logan Ryan (48 starts, .946 fielding %). Clearly, Dupic isn't trying to pull anyone's leg. Precious few positions are being written in permanent ink.
With plenty of power having moved on from last year's squad, Geiger will be counted upon as a run producer. The native of Sedalia, Colo., has played in 145 career games as a Bulldog, hitting .315 with 14 home runs, 41 doubles, 122 RBI and a .512 slugging percentage. He got through some of the struggles he experienced late in 2017 by blasting a grand slam and a two-run double versus Clarke University (Iowa) at the national tournament.
"With Kaleb there's never been a question about him physically and his ability to be a high-level performer," Dupic said. "Even when I look back at last year, he hit a lot of extra-base hits. At some point as a player, there has to be a level of peace and maturity. Sometimes Kaleb almost cares too much. He has a passion for being good and a passion for his teammates and the success of the program. Sometimes he puts extra stress and anxiety on himself. We want him to go be confident and play."
Beyond what happened on the field this fall, Concordia also joined the wrestling program for the Down Syndrome Association for Families (DSAF) of Nebraska Step Up for Down Syndrome Walk in Lincoln earlier this month and held its own home run derby for the third year in a row. Additionally, GPAC championship rings arrived this week. They will be distributed to members of the 2017 team at a date to be determined. Dupic hopes the rings can help symbolize the "terrific relationships" each other developed as much as anything accomplished through the game of baseball.
It won't be long before we find out what the 2018 team has to offer. Strength and conditioning and the use of the program's new HitTrax system are a big part of the plan for the winter months. Dupic wants his players to ready their bodies to handle the grind of a season that will hopefully lengthen deep into the postseason once again. Says Dupic, "The big vision is that we are hitting the ground running in January. As soon we get to the first day of classes it's also the first day of practice. We're not going to wait around. We'll hit it hard right away."