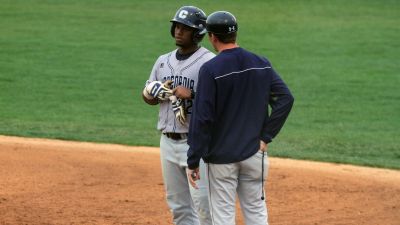 YORK, Neb. – The Concordia baseball team faced 14th-ranked York College for a non-conference tilt Tuesday evening. The Panthers took a 13-5 victory from the Bulldogs thanks to a fiery third eight-run inning. Christian Montero and Johnny May each hit a homerun in the game.
After facing York for a second time this season, Concordia moves to 22-20 overall. York improves to 35-11.
Head coach Ryan Dupic said, "We didn't come out ready to play today. It was disappointing. We had an off-day yesterday and we just didn't take advantage of that. On top of that, they (York) are a great team. We didn't execute some things defensively early in the ballgame and it's hard to catch up to a team like that."
The Panthers started the first three innings off scoring 11 of their runs. The third inning saw the most action with eight tallies. Concordia had just scored one run at that point in the game off a home run from May. In the fourth frame, Jacob Adams singled to the short stop and was advanced around to third. Adams then scored on a wild pitch.
Concordia held York to just two more runs the rest of the game and tried to fight back. Christian Montero crushed a home run over the left field fence in the eighth inning to set the final score. Although Concordia outscored the Panthers in the final five innings, it wasn't enough to come back for a victory.
Six different Bulldog pitchers took the mound during the game with Tanner Wauhob starting. The freshman pitched 2.1 innings, the longest of any Concordia hurler over the course of the contest. Todd Oberthien struck out two batters and allowed just one hit. Nic Seaman pitched a three up, three down eighth inning before Joseu Melchor finished off the game, facing four Panthers.
The Bulldogs will return to the diamond this Saturday to take on Midland University, another squad that is fighting for the GPAC title. The conference double-header will begin at 1 p.m. at Plum Creek Park in Seward. Eight seniors will be honored during the twin bill.