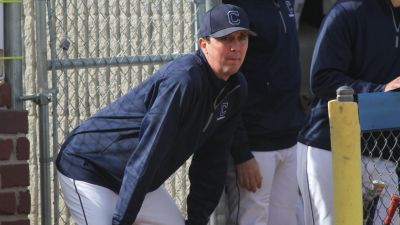 GPAC Coach of the Year: Ryan Dupic
First Team All-GPAC: Casey Berg, Jason Galeano, Jason Munsch
Second Team All-GPAC: Ryan Fesmire, Christian Montero, Desmond Pineda, Josh Prater
Honorable Mention All-GPAC: Jake Adams, Wade Council, Nick Little, Christian Meza
SEWARD, Neb. – After winning the GPAC regular-season title, an impressive haul of postseason conference honors came rolling in on Wednesday (May 10) for the Concordia University baseball program. The architect of a quick rise to the top of the conference, third-year skipper Ryan Dupic has been named the GPAC Coach of the Year. In addition, 11 Bulldog players garnered some form of all-conference recognition. That number includes three first teamers, four second teamers and four who were placed on the honorable mention list.
Under Dupic's watch, the program has enjoyed its winningest three-year stretch ever, going 87-65 during that time. Concordia has re-broken the school record for victories in a single season in each of Dupic's three years guiding the team. Dupic helped end a conference title drought that lasted for 31 years at Concordia. One of the rewards will be the Bulldogs' first-ever trip to the national tournament. Concordia will enter the opening round at nationals with an overall record of 33-20.
After honorable mention accolades the past two seasons, third baseman Casey Berg vaulted to the first team in 2017. Berg became one of the conference's most productive offensive players this season, batting .338 with an on-base percentage of .433 and slugging percentage of .535. The native of Carroll, Iowa, has also recorded 16 doubles, a triple, seven home runs, 35 RBIs, 28 walks and 10 stolen bases. Berg is now the school record holder for runs scored in a single season (52). He ranks among the top 10 players in the GPAC in runs scored, slugging percentage, hits, doubles, home runs, total bases and stolen bases.
First team pick Jason Galeano (Brooklyn, N.Y.) has made a significant impact in what will be his only season as a Bulldog after transferring from NCAA Division II Illinois-Springfield. While serving as both a designated hitter and first baseman, Galeano is hitting .314 with six home runs and 39 RBIs (team high). He owns an on-base percentage of .396 and slugging percentage of .461. His 60 hits rank second on the team behind only Berg. Galeano has yet to commit an error in 132 chances in the field.
Jason Munsch (Campbell, Calif.), the team's third first team all-conference choice, has been one of the most difficult pitchers in the league to hit. He's limited opponents to a .172 batting average and boasts a 2.77 ERA over 48.2 innings. He is the team leader with 57 strikeouts (10.5 strikeouts/nine innings) and owns a record of 5-1. He's made 10 starts and has allowed just 29 hits. He tossed a seven-inning, one-hit shutout against Morningside on April 2.
Catcher Ryan Fesmire, a second team All-GPAC performer, has been behind the plate for most of Munsch's punch outs. Fesmire, who hails from Firestone, Colo., is the team's most experienced veteran having played in 140 career games. Fesmire has been at his best as a senior. He's hitting .259 with a .333 on-base percentage and .348 slugging percentage. He's helped work with a pitching staff that entered the GPAC championship tilt with a 2.66 ERA over its previous 11 games.
A first team choice in 2016, Christian Montero (Santo Domingo, Dominican Republic) finds himself on the second team this season. A dependable middle-of-the-order bat, Montero is hitting .294 with five home runs and 27 RBIs. He owns a .404 on-base percentage and .483 slugging percentage. He tops the team with 12 stolen bases in 14 attempts. His 19 doubles are a program single-season record. His biggest power surge came on April 8 when he drilled three home runs in a doubleheader sweep at Doane.
No GPAC reliever has been more valuable than Desmond Pineda, a second team all-conference pick. In his 17 appearances (two starts), he's covered 40.1 innings and owns a sparkling 2.23 ERA. He's allowed 30 hits and 15 walks to go up against 39 strikeouts. Pineda has also been credited with five saves and three victories. His longest outing was a seven-inning relief appearance when he surrendered just one run and struck out eight in the 13-inning game against Dordt.
The final second team honoree is senior Josh Prater, who moved up from honorable mention accolades in 2016. The lefty from Colorado Springs, Colo., has taken the ball 11 times, working 63 innings and pitching to a 2.57 ERA. He has recorded 54 strikeouts while allowing 65 hits and 20 walks. He has tossed three complete games, including one shutout. In 177.2 career innings as a Bulldog, Prater has a 13-8 record and 3.85 ERA.
A GPAC Gold Glove Team selection in 2016, Jake Adams is joined by teammates Wade Council, Nick Little and Christian Meza with honorable mention accolades. Adams has served as the starting center fielder and is hitting .306 with a .420 on-base percentage. An impact two-way player, Council is 6-1 with a 2.22 ERA in 48.2 innings as a pitcher and is batting .276 with a pair of home runs at the plate. Coming off two-straight nine-inning complete games, Nick Little has lowered his ERA to 4.03 over a team high 67 innings. His record is 6-3. At second base, Meza has been one of the team's most consistent hitters. He owns a .311 batting average and has driven in 37 runs.
The Bulldogs will learn of their opening round site assignment when the announcement is made at 3 p.m. CT on Thursday (May 11). Check back for complete coverage.