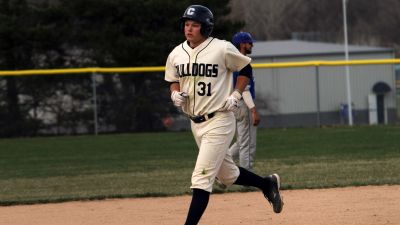 SEWARD, Neb. – The Concordia baseball team hosted 12th-ranked Tabor College on Tuesday afternoon for a double header. The Bulldogs were defeated 12-6 and 16-5 in the tilts. Johnny May and Taylor Dudley each hit a home run during the twin bill.
The losses dropped Concordia back down to an even record at 14-14 while Tabor improves to 23-8 on the season.
Head coach Ryan Dupic said, "I thought offensively, we were pretty good today. We got some good swings off and good things happened at times. We didn't pitch well at all or defend very well…There are still some positive to build upon…We've played 28 non-conference games, so there's definitely been opportunities to learn about ourselves."
In the first game, three of Concordia's six runs came in the first inning. Christian Montero doubled to center field to score Alex Alstott who reached on a walk. Kaleb Geiger scored on a bat from Tyler Nelson. Montero then crossed the plate on a passed ball. Also scoring in the contest was May in the third frame. Dudley homered down the right field line to score himself and Geiger in the final inning.
Casey Hall was the starting pitcher for the Bulldogs. Hall walked two of 11 batters he faced in 2.0 innings. Jared Schipper came in for 2.1 innings, relieving Hall. Todd Oberthien faced seven batters and struck three of them out in 1.2 innings. The last pitcher of game one was Cole Thomas who hurled one complete inning and struck out two.
Starting on the mound for the last half of the double header was Neil Ryan who pitched one inning and struck one batter out. Nic Seaman pitched one inning and also struck out one Blue Jay. Josh Prater and Schafer Thompson each pitched two innings before Josue Melchor closed out the final inning.
Likewise to the first game, Concordia scored the majority of its runs in the first inning. Christian Meza got aboard off a single up the middle and was batted around to third by Geiger. Meza then scored on a passed ball. Geiger scored off a single from Montero. May was to the plate a few spots down the line up and was walked, advancing all runners and scoring Montero. Logan Ryan did the same, scoring ten Bensel. In the sixth inning, May shot a solo home run over the left field fence.
As a team over the two games, the 'Dogs recorded 6 hits, 21 putouts and were walked eight times.
Concordia will host Dakota Wesleyan on April 2 to open up GPAC play. The double header will begin at 1 p.m. at Plum Creek Park.