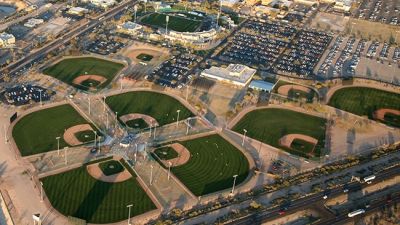 SEWARD, Neb. – The Concordia University baseball team will take its three-game win streak on the road to Tucson, Ariz., for a 10-game foray that begins March 5 and ends on March 11. The Bulldogs will put themselves up against seven nonconference NAIA opponents as part of the 2016 Tucson Invitational, which will again be staged at Kino Sports Complex, formerly used by the Arizona Diamondbacks and Chicago White Sox for Cactus League games.
The Tucson Invitational makes up a large portion of Concordia's stretch of 24-straight games away from Plum Creek Park to open up 2016. Second-year head coach Ryan Dupic's squad is off to a 5-7 start having played exclusively on the road against Kansas Collegiate Athletic Conference foes. The Bulldogs busted out the heavy lumber over the weekend in tallying 51 combined runs over the final three-games of a four-game set at Ottawa University. First baseman Kaleb Geiger earned Booster Club Athlete of the Week honors after going 7-for-12 and reaching base in 13-of-19 plate appearances at Ottawa.
Concordia owns a streak of six-straight victories in the state of Arizona after winning the final six games (eight of nine overall) of its 2015 stay in Tucson. The hot desert performance helped spring the Bulldogs to a 10-game win streak that fell one triumph short of a school record. This marks the third-straight year that the program has ventured to Arizona. It spent its 2013 spring break in Florida.
The trip will be a homecoming for right-handed pitcher Mark Harris, who hails from Tucson. Harris was recently inserted into the starting rotation. Harris owns an ERA of 0.71 and 13 strikeouts in 12.2 innings pitched. Another starting hurler, lefty Taylor Bickel, is a Surprise, Ariz., native.
Concordia is scheduled to make its first home appearance on Saturday, March 19 when Grace University treks to Plum Creek Park for a 1 p.m. doubleheader.
2016 Tucson Invitational Schedule
Sat., March 5 vs. William Penn, 3 p.m. MT / 4 p.m. CT (DH – Field 5)
Sun., March 6 vs. Jamestown, 9 a.m. MT / 10 a.m. CT (DH – Field 7)
Mon., March 7 vs. Missouri Valley, 6:30 p.m. MT / 7:30 p.m. CT (1x9 – Stadium)
Tue., March 8 vs. Winnipeg, 4 p.m. MT / 5 p.m. CT (1x9 – Field 7)
Thu., March 10 vs. Olivet Nazarene, 12:30 p.m. MT / 1:30 p.m. CT (1x7 – Field 4)
Thu., March 10 vs. Waldorf, 3:30 p.m. MT / 4:30 p.m. CT (1x7 – Field 4)
Fri., March 11 vs. Dakota State, 9 a.m. MT / 10 a.m. CT (DH – Field 6)
Tucson Invitational Location
Kino SportsComplex
2500 E Ajo Way
Tucson, AZ 85713