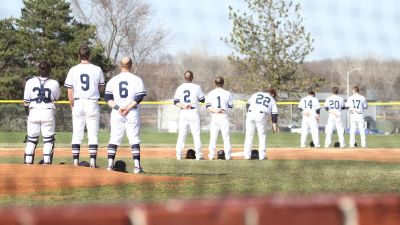 SEWARD, Neb. – The work of the bullpen was terrific on Wednesday night (April 25), but the Concordia University baseball team could not overcome its defensive miscues or its lack of punch at the plate. Visiting Midland took advantage and emerged with a doubleheader sweep at Plum Creek Park. The Warriors won by scores of 6-3 and 2-0.
Fourth-year head coach Ryan Dupic's squad dropped all four games in its regular-season series with Midland. The Bulldogs are now 22-19 overall and 10-12 in conference play. They slipped back behind a trio of teams tied for third place with 12-10 GPAC records.
"Hopefully we can learn from it," Dupic said. "It was rough that first game. We were awful defensively and put ourselves in bad positions. We didn't necessarily swing it great but if we had made some plays, we could have kept the game a lot closer. We beat ourselves up that first game. That second game was a good ballgame. Their pitcher threw well. We were much better defensively but obviously we weren't able to get the bats going."
Midland coach Chad Miller could not have asked for more from hurlers Hayden Bailey and Billy Brand, both of whom made their first starts of the season on Wednesday. Bailey took a no-hitter into the sixth before GPAC player of the week Thomas Sautel ended it with a leadoff homer. Brand was nasty in game two. He went the distance in a two-hit shutout that featured 10 strikeouts.
Game one wasn't pretty. Concordia committed five errors and the Warriors (24-19, 12-10 GPAC) were guilty of three. The Bulldogs were gifted a run apiece in the first and fifth innings on Midland miscues. Dylan DuRee calmed the waters with 3.1 scoreless innings in relief of starter Neil Ryan. Making his third start of 2018, Ryan allowed all six runs, but only two were earned.
In sum, the Concordia 'pen covered eight innings without allowing a run on Wednesday. Starter Tanner Wauhob was chased in the third inning of game two. Nathan Buckallew (2.0), Wyatt Weller (1.2) and Jake Fosgett (1.0) kept the Bulldogs close by hanging zeroes over the game's final four innings. Weller came through by inducing a double play grounder to end a bases-loaded threat in the fifth.
"They were really good today," Dupic said. "We used a lot of different guys based on the matchups. I was proud of them. I thought they threw the ball well and gave us a chance to win."
The Bulldogs will continue the home stand this weekend by hosting Dakota Wesleyan (10-25, 6-16 GPAC) in a four-game series. Start times for doubleheaders on Saturday and Sunday are both set for 1 p.m. CT. Concordia will use Saturday to honor the winningest senior class in the history of the program.