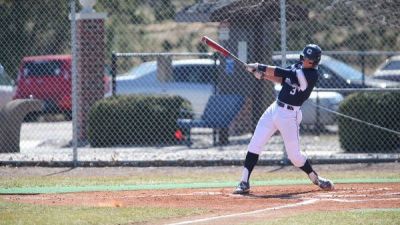 Dakota State takes two from Concordia in mistake-plagued doubleheader
SEWARD, Neb. – After 22 games away from Seward to open the 2014 season, the Concordia University baseball team finally hosted its home opener on a chilly, but sun-soaked Sunday afternoon at Plum Creek Park. Visiting Dakota State University (8-12) spoiled the day by sweeping the doubleheader, winning by scores of 6-5 and 9-5.
The pair of losses snapped a six-game win streak for head coach Jeremy Geidel's Bulldogs, who fell to 10-14 on the season.
Concordia squandered leads in both games against a Trojan team it had already beaten 12 days earlier in a contest played in Tucson, Ariz. On Sunday the Bulldogs committed a combined eight errors and their pitching staff issued 10 free passes. Even for Geidel's offensive attack that had hit .383 over the previous six games, the miscues were too much.
"Too many walks and errors in key moments and situations," Geidel said. "We had the chance to make some plays, especially some double plays and didn't make them. And we gave some extra bases to Dakota State with walks. It was a situation where we have the lead like that, you have to keep it."
The first two innings of game 1 failed to foreshadow the rough day ahead. Concordia jumped out to a 4-0 lead by pushing across three in the first and one in the fourth. Second baseman AJ Peterson got the Bulldogs on the board quickly with an RBI single that was followed soon after by an RBI groundout from Daniel Wilkerson and a sac fly from Zach Cambier in the three-run first.
The wheels started to come off in the fifth when Dakota State edged in front with four runs, aided by a critical error on a sacrifice bunt. The Trojans took full advantage with RBI singles immediately preceded off the bats of Jon Davis and David Halstead.
Halstead later came through with the game-winning RBI double in the top of the seventh to break a 5-5 tie. Reliever Bryan Westra then threw a 1-2-3 bottom of the seventh to earn a save in support of winning pitcher Austin Weber.
Dakota State's come-from-behind triumph took the air out of a Bulldog team that did not seem to play with the same fire it showed in winning the last six games of their Arizona road trip.
"The energy level those last six games was a lot different than today," Geidel said. "How do you recapture that energy level and intensity that you found in Arizona and bring it back home in the north and a weekend like this? You have to find that before conference."
Concordia, behind game 2 hurler Jordan Stirtz, held leads of 1-0 and 3-2 in the night cap. That's when defensive gaffes once again became an issue. Three different Bulldog infielders were tagged with an error apiece in the Trojans' four-run sixth that gave them a 6-3 lead, one they would not relinquish.
After the Bulldogs came back with two in the bottom of the seventh, Dakota State responded with three more runs in the eighth – when bases on balls proved fatal for the Concordia bullpen.
At the plate, junior third baseman Andrew Yerrell stayed hot, going 3-for-6 out of the No. 3 spot for Concordia. Game 2 second baseman Cole Stuerke notched three hits in five at bats as part of the Bulldogs' 12-hit output.
After going 0-for-4 in game 1, Trojan right fielder Seth Spears came back with a big game 2 performance (3-for-4, two doubles, one triple). Spears led a 13-hit outburst against six Concordia game 2 pitchers.
The Bulldogs return to action on Tuesday when they travel to Manhattan Christian College (Kan.), a NCCAA member, for a doubleheader. First pitch is set for 1 p.m. from Manhattan, Kan.