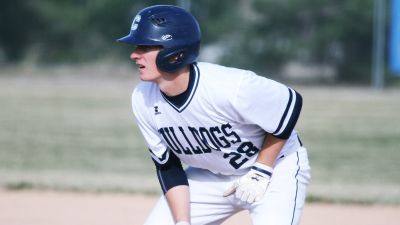 LINCOLN, Neb. – Head coach Ryan Dupic wanted to see better team defense after the Bulldogs surrendered five unearned runs during Friday's action at Plum Creek Park. He got exactly that. Freshman left-handed starting pitcher Wade Council benefited from excellent work behind him while scattering 11 hits in a 1-0 blanking of the University of Jamestown (N.D.) on Saturday. The seven-inning contest took place at Woods Park in Lincoln, Neb.
Dupic's squad moved to 10-7 overall. It has split four games this season with the Jimmies (15-8), a member of the North Star Athletic Association and future GPAC rival.
"It's been a little bit inconsistent so far this year for us," said assistant coach Bryce Berg of the team's defensive play. "We haven't necessarily defended the way that we've wanted to, but today was a major step forward. We had multiple guys make plays. (Christian) Montero was really good in the outfield and (center fielder) Jake Adams made some plays. It was just a much cleaner baseball game.
"Wade did a good job of keeping their hitters off balance. Of the hits he gave up, only two were for extra bases."
Council stranded a total of eight runners in his first career complete game and first collegiate shutout. He made big pitches in big spots, struck out six Jamestown hitters and walked only one. Of course, he couldn't have done it alone.
Mostly a designated hitter last season, Montero has showcased a big arm from right field so far this season. He gunned down two runners at the plate. His second outfield assist prevented Scotter Turin from giving Jamestown the lead in the top of the seventh. Adams also erased a Jimmie baserunner at the dish.
The receiver on the end of those hoses was senior catcher Ryan Fesmire, who is playing his best baseball. He came through with two of his team's three hits. In a dramatic finish, Fesmire strode to the batter's box with the bases loaded and no outs in the bottom of the seventh. He laced the first pitch he saw into the gap for a walk-off single that scored Adams, who had bunted for a hit to get the frame started.
Fesmire, 2-for-3 at the plate, has significantly improved his ability to throw out would-be base stealers. He took out another runner on Saturday and has a 58.3 percent success rate throwing out potential thieves.
"He's been really good offensively. He's just playing really good baseball right now," Berg said of Fesmire.
Concordia had only three singles off of Chase Thometz. However, the Bulldogs also drew five walks and stole two bases (Adams and Casey Berg). On the flip side, Kory Wolden went 3-for-4 out of the leadoff spot for Jamestown. He was stranded at second twice and third once.
Concordia will close its weekend with another single game at Woods Park in Lincoln at 3 p.m. CT on Sunday. Host Nebraska Wesleyan (7-7) will serve as the opponent. The Bulldogs topped the Prairie Wolves, 11-4, at Plum Creek Park on Friday.