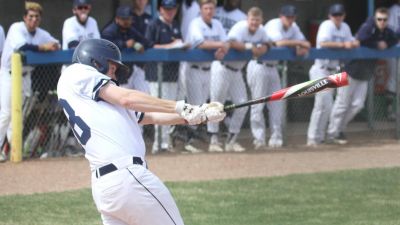 TUCSON, Ariz. – Sophomore Wade Council belted a pair of home runs while powering the Concordia University baseball team to a 15-3 blowout victory over William Penn University (Iowa) in its opening game at the Tucson Invitational. The Statesmen then handed the Bulldogs a 9-2 defeat in the nightcap on Saturday (March 3). Concordia is scheduled to play nine more times before leaving Arizona.
Fourth-year head coach Ryan Dupic's squad is now 3-3 overall this season.
"The first game today we played very well. We swung it really well," Dupic said. "Wade hit two home runs and Christian Meza hit the ball really well. Up and down the lineup we were pretty good offensively. Cade Moring got us another really good start. He had a couple innings with a lot of guys on base but he really battled through it and did a nice job. The first game was obviously well-played for us.
"The second game was just very sloppy. We made way too many errors. We did not play well defensively and their guy did a nice job on the mound. We fell behind right away and weren't able to come back. We just didn't make enough plays in the field."
Meza doubled twice as part of the 15-run explosion in the opener. Moring limited the damage to one run over his five innings of work. He picked up his first win of the season. In the second game, Tanner Wauhob took the ball on the mound. He went 4.1 innings before giving way to Nathan Buckallew. Jared Schipper and Dylan Duree also saw action out of the bullpen on the evening. Dylan Jacob drove in one of the team's two runs with an RBI base hit.
Two more games are coming up on Sunday as part of an 11-game slate at the Tucson Invitational. The Bulldogs will play two NCAA Division III opponents: Rockford University (Ill.) at 12:30 p.m. MT / 1:30 p.m. CT and Gustavus Adolphus College (Minn.) at 4 p.m. MT / 5 p.m. CT.