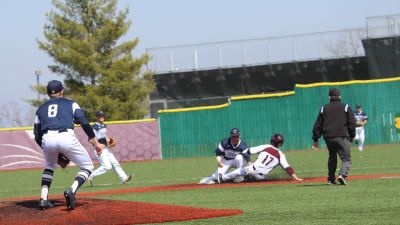 POINT LOOKOUT, Mo. – In a matchup between two programs that both won 30 or more games in 2017, the Concordia University baseball team split Saturday's (March 17) doubleheader at College of the Ozarks in Point Lookout, Mo. After a 7-4 loss in game one, the Bulldogs responded with a 9-4 game two victory while riding the right arm of Nick Little and the hot bat of Wade Council. Concordia blasted five home runs on the day.
Fourth-year head coach Ryan Dupic's squad moved to 11-7 overall. All of those games have come away from Plum Creek Park.
"Probably the biggest positive today was that our offense was very good," Dupic said. "The first guy that threw for them threw really well. We were able to get some good swings off him. The second game we responded. I thought we were good offensively, really for all 16 innings today."
It has not been out of the ordinary for Dupic to have power at the top of the order. Council has moved into the No. 1 slot that has been held down in recent seasons by first team All-GPAC performers such as Alex Alstott and Casey Berg. After 18 games, Council seems to be filling those shoes just fine. On Saturday, the Colorado Springs native keyed a three-run second in game two with a two-run homer. He added an insurance run in the ninth with a solo shot.
Council is hitting .364 at the top of the lineup. He's slugging .652. Said Dupic, "His two home runs today were no doubters. When he's going good for us at the top that's a pretty big deal."
Three other Bulldogs went deep. Kaleb Geiger began the fireworks with a two-run big fly in the fourth inning of game one. Thomas Sautel immediately followed with a home run. Dylan Jacob also left the yard as part of the game two victory.
Little has been the clear ace of the rotation to this point in the season. Aside from one rough inning (four Bobcat runs in the fourth) that was made worse by a pair of errors, Little was dominant again. He scattered eight hits and two walks while allowing two earned runs in a nine-inning complete game effort. Little is 3-1 with a 1.74 ERA through his first four starts.
"He's been the best pitcher on our team," Dupic said. "He gave up four today and he easily could have given up just one or two. This is when you know a guy is pretty good. I would say he didn't necessarily have his best stuff today, but he still finds a way to compete and get guys out. He's been really impressive."
Concordia hitters totaled 21 hits over 16 innings of action while up against Ozarks' top two hurlers, Collan Thrasher and Jay Kaufman, both owners of ERA's south of 3.00. Council went 4-for-9 with three runs and three RBIs on the day. Other top hitters for the Bulldogs were Geiger (4-for-6, two runs, four RBIs) and Christian Meza (two hits in both games). Keaton Candor (2-for-5, run) and Jacob (2-for-4, two runs, RBI) notched two hits apiece in the second game.
Cade Moring and Tanner Wauhob both fired three innings in game one. Ozarks broke a 4-4 tie with three runs in the bottom of the fourth and tagged Wauhob with the loss. Thrasher tossed a seven-inning complete game for the Bobcats (17-10).
The Bulldogs and Bobcats are scheduled to complete their three-game series on Sunday with a single nine-inning game. First pitch is slated for 2 p.m. CT from Bob Smith Field. A win would give Dupic his 100th as head coach at Concordia.