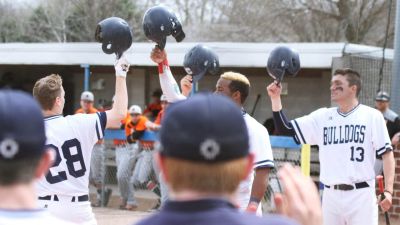 SEWARD, Neb. – The Concordia University baseball team is on a conference roll like never before. While finishing up a four-game sweep of rival Doane, the Bulldogs rode a shutout from freshman Wade Council and three more home runs to Sunday victories by scores of 3-0 and 7-6.
Third-year head coach Ryan Dupic's squad has now won nine-straight GPAC games. Concordia also dominated Doane Saturday, taking both ends of a twin bill that was played in Seward. The first-place Bulldogs are now 20-13 overall and 9-3 in league play.
"I was very pleased with the way we defended in game 1. We turned multiple double plays and made some other nice plays as well," Dupic said. "Wade pitched terrific and was able to keep them off balance. They threw a very good pitcher, but we were able to scratch across a few runs.
"Game 2 was very back and forth. It was a well-played ballgame with some big offensive swings by both teams. We got some really good offensive work. Casey Berg had two big at bats late in the game, and we had three freshmen all throw the ball well."
In effort to avoid the an empty weekend, the Tigers (15-20, 6-8 GPAC) rallied late in game 2. They tied it in the bottom of the seventh (5-5) on a Jake Smith two-run single and then again in the eighth (6-6) on a Nathan Sliva home run.
All weekend long, the Bulldogs proved too powerful. In the ninth, Berg led off with a single up the middle and then advanced to second on a wild pitch. With one out, Jason Galeano base hit sent Berg to the plate for the game-deciding tally in Concordia's fourth one-run win of the season. Galeano went 3-for-5 with three RBIs in game 2.
Much less offense was needed in game 1 with Council dealing on the hill. He fired his third shutout already this year by scattering five hits without surrendering a single run. He also struck out five Doane hitters. Council is 5-0 with a 2.20 ERA.
Christian Montero continued terrorizing Tiger pitching. He connected on fifth-inning solo homer in game 1. Montero homered four times on the weekend. As a team, the Bulldogs blasted eight home runs in the four-game sweep. Both Galeano and Ryan Fesmire homered in Sunday's second game.
Berg enjoyed a 4-for-9 performance out of the leadoff spot on Sunday. A steady senior catcher, Fesmire went a perfect 4-for-4 with two RBIs in game 2. Doane pitcher Jake Trujillo did a solid job of limiting Concordia in the opener. He covered 5.1 innings, allowing three runs (one earned) on six hits and a walk.
The Tigers have now lost seven-straight games, all against GPAC opponents. They were outscored by the Bulldogs, 30-10, in the four-game series.
In a makeup doubleheader, the Bulldogs will host Dordt (11-18, 4-8 GPAC) at 3 p.m. CT on Tuesday. Concordia is 3-3 at home this season while the Defenders are 4-9 in true road games.